The NFT community have been celebrating in the last 24 hours over the popular NFT Doodles project after it announced the launch of Doodles 2 on the Flow blockchain. The latest development features a personalisation upgrade service for the existing collection of pastel characters.
Wait, what is it?
The NFT project was launched by Evan Keast, Scott Martin and Jordan Castro. Keast and Castro are well-known for helping to launch one of the first most successful NFT projects CryptoKitties in 2017. The project was launched in 2021 with a strategically priced point of 0.123 ETH with an aim to reach a treasury of around 420 ETH. Holders of a Doodle hold one vote in the Doodle DAO to decide on where the capital should go.
According to Keast, the Doodles project is a Web3 entertainment company with IP partnerships, events, animation and consumer products, with holders voting on experiences and activations paid for by the community treasury. Since launching, the project has reached a total whopping volume of more than 155,731 ETH (248,091,941 USD).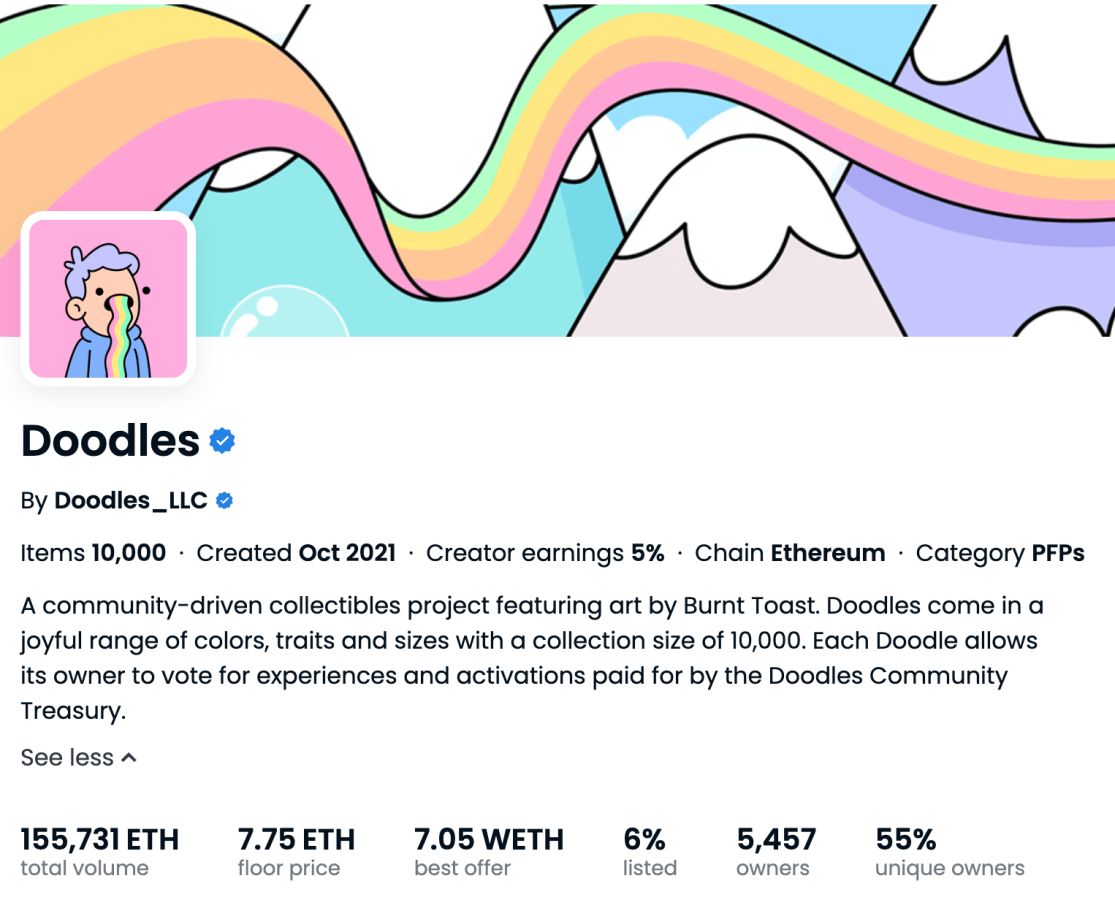 In June 2023, the NFT project tapped Pharrell Williams to become its Chief Brand Officer.
"We're going to build from the core community outward and bring Doodles to new heights, new levels," Williams shared at NFT.NYC, who outlayed his plans to produce an NFT-inspired album titled Doodles Records: Volume 1, in partnership with Columbia Records.
What is Doodles 2?
Doodles 2 is a new experience which will enable holders to "personalize their own Doodle on-chain, choosing their look with attributes like body, hairstyle, emotion, apparel and accessories."
The wearable accessories can be claimed in limited quantities at physical events as well as during collaborative brand partnerships, and will become available for trading on the Gaia marketplace. 
The inaugural wearable NFTs are designed to be interoperable utilised across social media platforms, gaming platforms and other digital mediums.
With this feature, Doodles' approach differs from the traditional blueprint of many popular NFT collections which have opted to release secondary companion collections following their primary sale to expand their audience at a lower price point.
This trend was first established by Bored Ape Yacht Club with their release of the Mutant Ape Yacht Club collection four months after launch, with projects such as Azuki, World of Women, VeeFriends all replicating a similar theme.
Original collection
Whereas Doodle's original collection launched on Ethereum, Doodles 2 will exclusively launch on the zero gas fee blockchain network Flow. The Dapper Labs owned blockchain is most notable for drops such as NBA Top Shot and NFL All Day, among others.
Doodles launched an official trailer for Doodles 2 during NFTNYC last year.
Julian Holguin, the CEO, advocated for a "future of strong cross-interoperability with Ethereum", sharing that Flow's ease-of-accessibility and audience base is more tailored for mainstream audiences as they expand into areas of animation and music.
"We're excited to continue investing in Doodles' core collections on Ethereum, while also connecting Doodles everywhere our community lives and creates", he stated before adding:
"We believe the combination of Ethereum and Flow is the ideal format to support and invest in our core Web3 community, while opening the gates to welcome new collectors."

Julian Holguin