Vanessa Sierra: Former star of Love Island and ex-girlfriend of Aussie tennis player Bernard Tomic, and OnlyFans model Vanessa Sierra has made waves in the crypto space this morning after it was revealed that she committed one of the cardinal sins in the world of blockchain: executing a 'rug pull' on the investors of her NFT project 'SmolBoyz Land'.
What's a 'rug pull' you may ask? It's pretty much the same to a "pump and dump" scheme. Basically, it's about getting people excited about an NFT project which causes them to jump in, and then quickly pulling out of the project by selling your stake at the top.
Late last night, one prominent crypto analyst, 'NFT Herder', posted a thread detailing how the OnlyFans model turned "crypto trader" failed to deliver on her promises and misallocated a significant amount of investors funds, all while blaming a crypto market downturn for the unfortunate outcome.
In March this year, Sierra and her co-founder 'Reagan.eth' launched the 'SmolBoyzLand' NFT project, raising 127 ETH — worth a whopping US$431,000 at the time — from investors. The influencer encouraged her fans to invest in the project because "it's clear statistically and experientially that prices will trend upwards".
NFTs: How was Sierra caught out?
By May 7, blockchain detectives did an analysis of the crypto wallets associated with the projects showed that the founders had withdrawn roughly 120 ETH of the total 127 ETH that was initially raised. However, on July 22 Sierra told her investors that: "absolutely none of the funding has been taken by founders".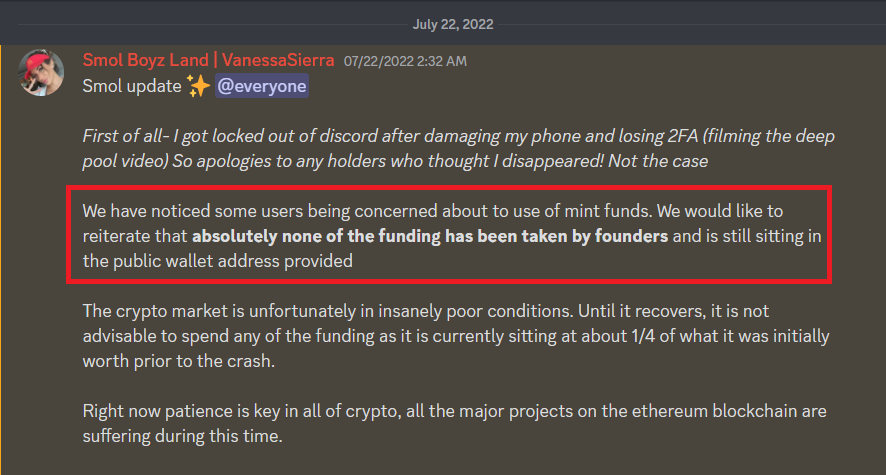 It's remains unknown exactly what Sierra and her co-founder used the funds for however it seems most likely that the 120 ETH was not used for the financing of the NFT project like it was claimed to be. In the past Sierra has made the claim that she somehow turned US$5000 into "roughly"close to a million dollars" just by flipping NFTs.
However, as pointed out by sources like NFT Herder, Sierra's tactics for "flipping NFTs" aren't exactly cutting-edge, in fact they much more closely resemble tactics used by scammers looking to trick people into selling highly valuable NFTs at lower prices.
All in all, Sierra's escapade into NFTs ended up with her apologising to the investors, claiming that she had been attempting to "recover the project" but ultimately ended up claiming that nothing could get it off the ground due to the current market downturn.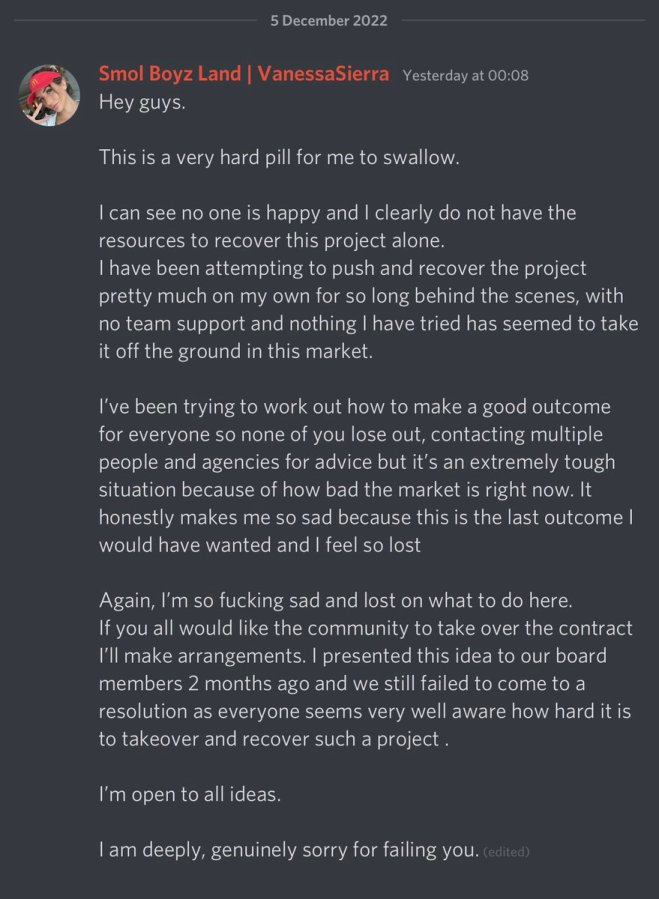 Back to OnlyFans
Unfortunately, this can only be seen as a bald-faced lie, as Sierra moved the majority of the funds from the wallet associated with the project more than 6 months ago.
At the time of writing the 120 ETH that was removed from the project's main wallet in March — worth US$153,000 today — remains unaccounted for, leaving many wondering what the funds have been used for.