Female crypto investors are killing it. The number of Australian women investing in crypto has grown significantly over the last 12 months. Not only have the gals been adopting crypto at a higher rate than the blokes, it also appears that they make better crypto investors than men do, at least according to recent data from international investment firm eToro.
According to a global survey of 10,000 people that included more than 1,000 Australian investors, the number of Australian women who owned crypto as a part of their investment portfolio grew from 23% in Q3 to a very respectable 41% by Q4 2022.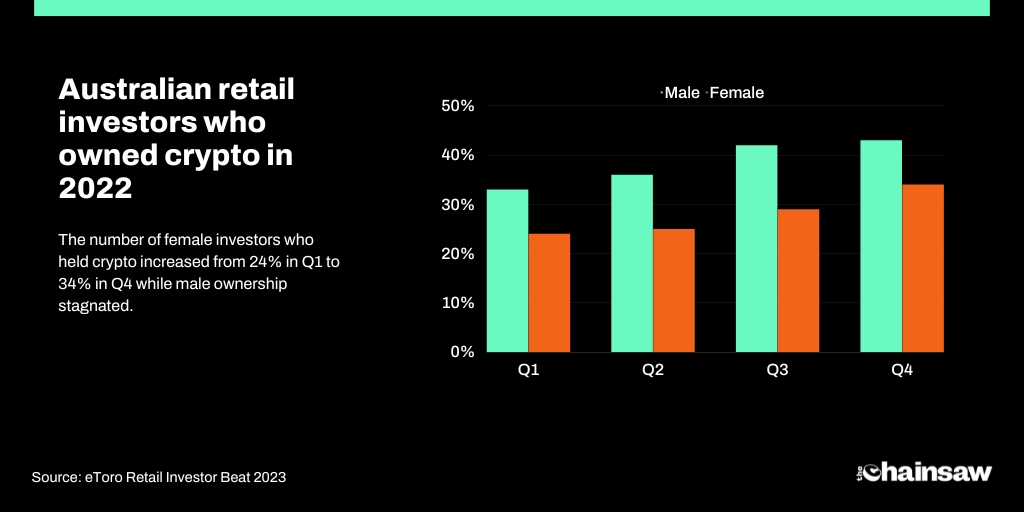 Female crypto investors
According to long-term data, eToro found that female crypto investors, "trade less frequently, look longer term and are less concerned about short-term market corrections," which gives them a unique edge over male crypto investors who tend to make more more impulsive investment choices.
Speaking to these data points, a spokesperson from eToro shared that this more balanced approach could be one of the primary reasons behind why the number of female investors in crypto assets grew in 2022.
"It's likely we saw the cohort of female investors seeing 2022 as the opportunity to buy crypto assets at significant drawdowns from prices in 2021."

eToro Australia
"In saying that, men appear to be riskier with their investments than their female counterparts, with 52 per cent of men saying they have increased the amount they contribute to their investment portfolio, compared to 44 per cent of women," eToro said.
Another interesting finding was that for a whopping 57% of the Australian women who invested in crypto, crypto assets make up 50% or more of their entire investment portfolio, showing a strong conviction in female holders on the platform.
Male investors also found the bear market to be more of a "motivating factor", with 22% agreeing that the 2022 bear market increased their appetite for risk-on investing, compared to just 15% of female investors.
Despite the increase of women investing in crypto over the course of last year, the report shared that education around the asset class is lacking, particularly when it comes to female audiences. According to the report, a staggering 41% of Australian female retail investors say that they don't go near crypto assets because they simply don't know enough about them enough about them.
Swyftx discovered similar trends
eToro isn't alone in their findings that female investors tend to make better investment decisions. Last year, Australian exchange Swyftx found that Aussie women outgunned the boys in a big way when looking at investment returns between July 2021 and July 2022.
Female Australian crypto investors reported a 23% gain year-over-year. This compares to blokes who saw their gains decline 4% over the same period. The average female investor raked in roughly AU$11,263 in crypto gains with men lagging behind at AU$10,917.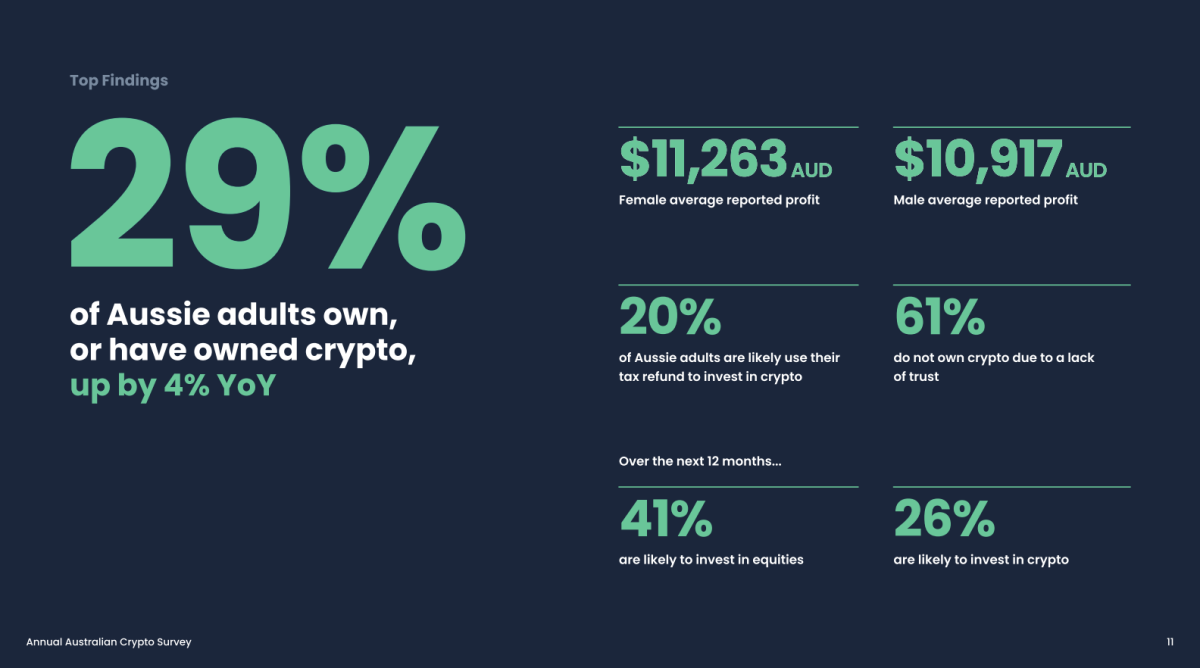 Swyftx's Head of Partnerships Tommy Honan told The Chainsaw that while there's, "a lot of empirical evidence that shows women are better investors than men," the rate at which female investors grew their profits up to July 2022 was actually surprising.
"The fact female crypto users are reporting larger profits isn't really a shock. What is surprising is how quickly female investors grew their profits in this market. We were expecting an across the board decline given we undertook this survey in the depths of the crypto winter," Honan said.