While haters say that crypto's on its last legs, new evidence from blockchain intelligence firm Chainalysis discovered that global crypto adoption is still pumping, with emerging markets leading the charge.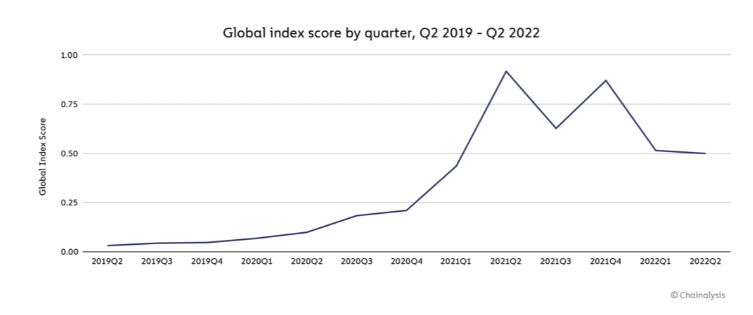 The 2022 Chainalysis Crypto Adoption Index ranked more than 150 countries according to data extracted from centralized exchanges, DeFi protocols, and peer-to-peer (P2) trading. It then used these numbers to calculate what Chainalysis calls 'grassroots adoption' — which helps cut through the noise of institutional trading to pinpoint where individual and non-professional investors are embracing digital assets the most.
The new figures show adoption is currently being led by emerging economies within South East Asia, Eastern Europe and Latin America — while more developed markets in the US and the UK faltered.
Kim Grauer, Director of Research at Chainalysis, said that while this year's overall figures don't exactly signal any sort of increase from last year, there has been an enormous uptick in emerging markets adopting cryptocurrencies.
"Our research suggests that reasons for this increased adoption differ around the world — in emerging markets, many turn to cryptocurrency to preserve their savings in the face of currency devaluation, send and receive remittances, and carry out business transactions," she told The Chainsaw.
This is different to more developed markets, which have seen their adoption rates climb most significantly due to the trading associated with banks, hedge funds and crypto prop shops.
"Adoption in North America, Western Europe, and Eastern Asia over the last two years has been powered largely by institutional investment," Grauer said.
Once again, Vietnam secured the top spot for global crypto adoption while the Axie-Infinity adoring Philippines jumped to second place from 15th. In third was the currently embattled region of Ukraine, closely followed by India who's prominence can be partially explained by its cricket-oriented NFT craze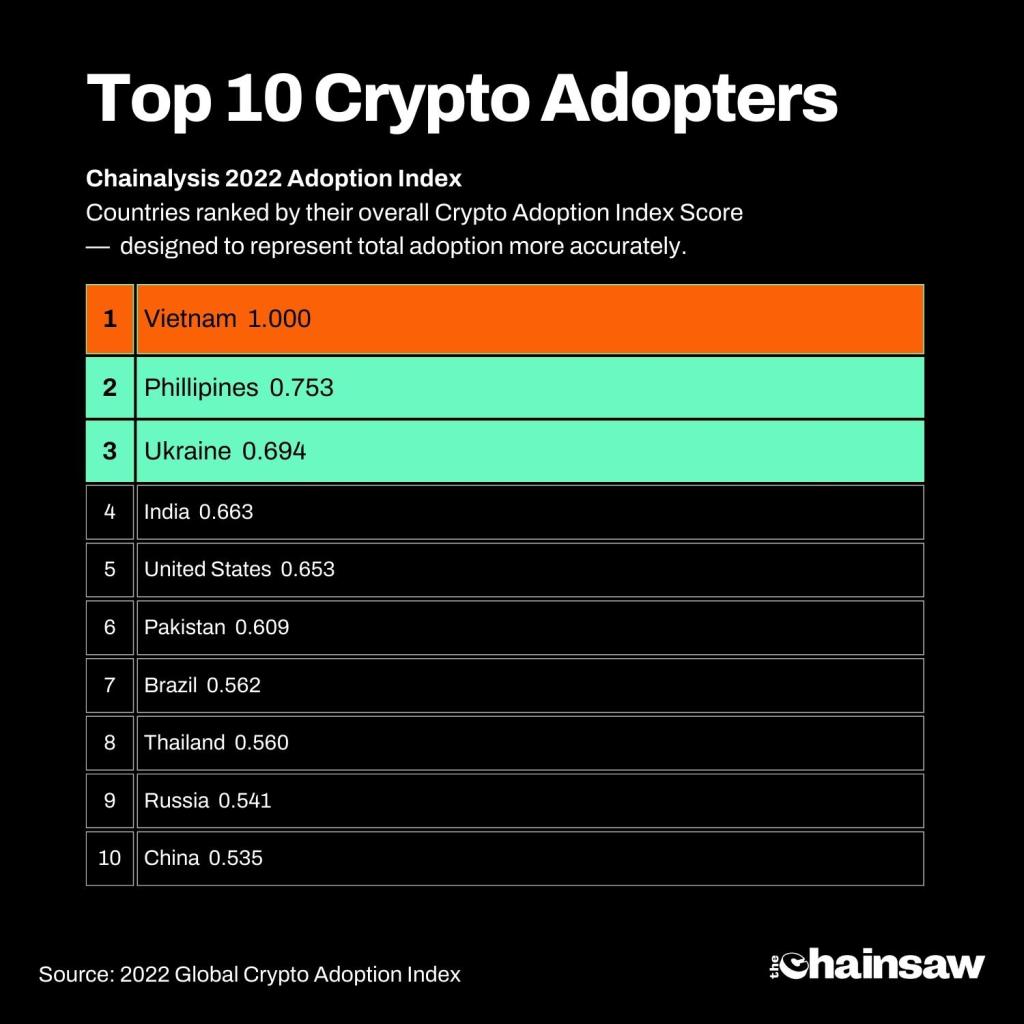 "Very different reasons" for top spot contenders
Addressing the variation in the world's top crypto adopters, Grauer said that all of the top regional crypto adopters hold their places for "very different reasons".
"In India, in the past year NFTs have brought new entrants into the fold with popular use cases such as trading cricket cards," Grauer said.
While NFTs and blockchain-based games were widely attributed with driving adoption in India and the Philippines, the currently conflict-scarred Ukraine saw an uptick in crypto adoption.
"In Ukraine, we know of a tech-savvy, young population that needs to tap into international payments regularly due to its close relationship with neighboring countries," Grauer said.
Meanwhile Vietnam's second-year adoption superiority was due to the country's massive growth in remittances (where family members send money to one another internationally), alongside a growing younger population.
"In Vietnam, we know that there is a large remittances hub, which in part drives adoption. But we also know that many young, tech savvy people in Vietnam might not have access to traditional sources of investment, so look to crypto as one option as a means to grow wealth overtime," said Grauer.
Surprisingly, China rose from 13th place in 2021 to 10th this year, despite the ongoing ban, with the research finding that the ban is either ineffective or most likely just being "loosely-enforced".
Emerging markets: US and UK in "heads down and build" mode
Despite the US and UK leading the early days of cryptocurrency proliferation that kicked into gear throughout 2020 and into 2021, the large network of engineers and developers that financially supported the massive uptake of digital assets has retreated over the past few months.
"Adoption in the [US & UK] has slightly cooled in recent months as the bear market has caused investors to pull back across all assets and as we enter in a "heads down and build" phase that will be crucial for determining the next wave of adopters in these regions.
According to Grauer, until these Western-based devs and engineers can start working to encourage growing rates of public adoption in their own countries, it seems as though onboarding into digital assets will continue going sideways.
"In other words, we are looking for the next killer app to bring more users into the fold in the UK and the US," Grauer said.
While overall growth throughout the world has been "sporadic when compared to last year", the aggregate data suggests that the mass of new users who put money into crypto have a higher tendency to possess 'diamond-hands' and generally don't sell even when prices decline.
Ultimately, overall adoption is being driven by "tech savvy, young populations who are increasingly looking to crypto as a means to grow wealth overtime," Grauer concludes.