Some Twitter users may have noticed that the iconic blue bird logo – which has long served as the home button at the top of users' menus – has been swapped out for an image depicting a Shiba Inu, most well-known as the popular 'doge' meme. The price of Elon Musk's favourite meme-powered cryptocurrency Dogecoin (DOGE) surged more than 30% in response.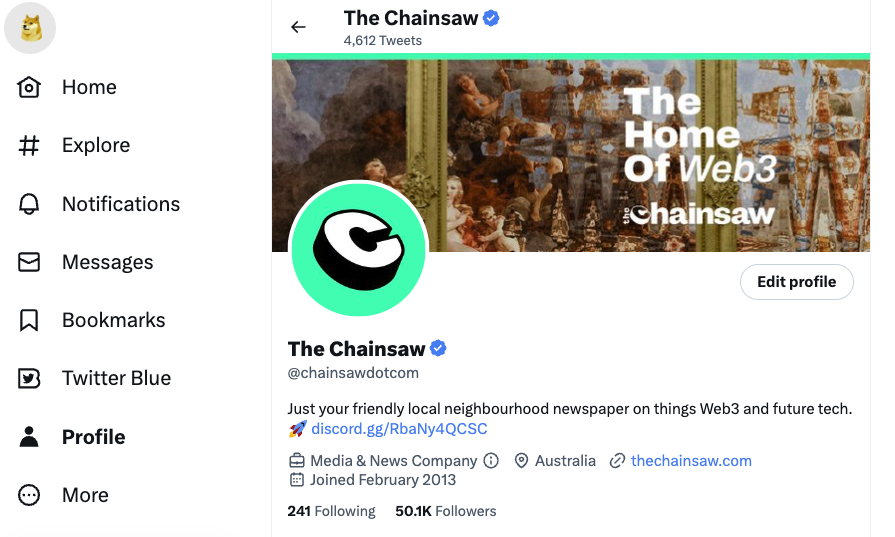 Users can also expect to see the same image of 'the doge' when waiting for their Twitter app to load on both mobile and desktop.
The unexpected change comes just two days after lawyers acting for Elon Musk, the now-CEO of Twitter, Tesla and SpaceX, asked a US judge to dismiss a US$258 billion class-action lawsuit filed by slighted crypto investors who alleged that Musk used his "pedestal as the World's Richest man" to run a "pyramid scheme" that unlawfully promoted investment in Dogecoin (DOGE).
The price of Dogecoin surged sharply following this morning's change, soaring 31% from US$0.077 (AU$0.11) to US$0.102 (AU$0.15) in less than an hour. The price of DOGE then fell briefly to US$0.09 (AU$0.13) before regaining ground to US$0.096 (AU$0.14) at the time of writing.
Elon Musk's Dogecoin antics
Shortly after the icon change was noticed by users on Twitter, Musk tweeted out the following meme, which suggests that the change could be more than just a flash in the pan.
For those wondering why on Earth Elon would choose to change the Twitter icon to the Doge meme entirely unannounced, the origins of the idea trace back to a conversation Musk had with the administrator of Reddit's infamous 'r/WallStreetsBets' on Twitter in March last year.
Unsurprisingly, Musk's decision to support Doge angered many in the crypto community. Crypto angel investor and avid Bitcoiner, Brad Mills penned a scathing tweet saying that Musk had betrayed the principles of cryptocurrency in favour of promoting "degenerate get-rich-quick crap."
Doge Twitter
Despite Musk — by way of Tesla — owning US$1.5 billion in Bitcoin, the CEO has publicly stated his belief that Dogecoin may actually be a superior cryptocurrency to Bitcoin.
Back in December 2021, Musk openly told Dogecoin creator Billy Markus that Bitcoin probably doesn't have the power to revolutionise the modern financial system in the way that its proponents say it does. Musk went on to state: "that's why I'm pro-Doge."
Additionally, Musk has even gone as far as claiming that Dogecoin could actually be better for everyday transactions than Bitcoin due to its faster transaction times and capability for higher volumes of activity.