Digital Currency Group, which goes by the acronym 'DCG' has come under investigation by US Federal authorities.
According to a new Bloomberg report, DCG is facing investigation from the United States Department of Justice's Eastern District of New York (EDNY) and the Securities and Exchange Commission (SEC). The investigators are looking into a number of internal transfers between DCG and its subsidiary crypto lending firm Genesis Global Capital, anonymous sources told Bloomberg.
Prosecutors have begun requesting interviews and documents, one of the sources claimed. Notably, the investigation is still very much in its early days and neither Digital Currency Group nor its founder Barry Silbert have been accused of any wrongdoing. While Silbert did not immediately respond to request for comment, an official statement from the company said that they were not aware of any investigation from the EDNY.
"DCG has a strong culture of integrity and has always conducted its business lawfully. We have no knowledge of or reason to believe that there is any Eastern District of New York investigation into DCG."

Official Statement from DCG
Bloomberg state both the SEC and the Attorney's Office for the Eastern District of New York have declined to comment and that it remains unclear specifically which of the inter-company financial dealings are drawing scrutiny from investigators.  
DCG's offspring include Grayscale Investments, the largest asset management firm in the crypto industry, news outlet CoinDesk, crypto exchange Luno and Bitcoin mining company Foundry.
Digital Currency Group: Barry Silbert vs The Winklevii
DCG and some of its subsidiaries have come under increasing scrutiny in the wake of the collapse of FTX in November. Genesis Global Trading was forced to halt withdrawals on November 10, after a public disclosure revealed that Genesis had US$175 million stuck on FTX in a trading account.
Genesis also reportedly owes US$900 million to the Winklevoss-owned crypto exchange Gemini. Gemini was forced to shut down its 'Earn' product, which allows investors to earn 8% interest on crypto loans.
A spat between the Winklevoss Twins (Winklevii) are the founders of Gemini and DCG founder Barry Silbert is playing out on Twitter in real time.
Last week, Cameron Winklevoss posted an open letter to Silbert, claiming that DCG had failed to repay Gemini which in turn, led to Gemini being unable to pay out its customers. In the letter, Winklevoss said that Silbert had just one week one to repay Gemini holders before matters would escalate.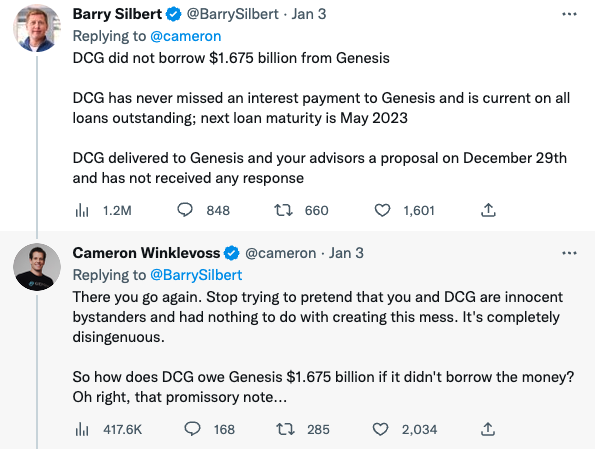 Notably, today Monday January 9 (AEDT) is the day of the Winklevoss-imposed deadline. Apart from a brief single-comment response from Silbert where he claimed that DCG did not borrow US$1.6 billion from Genesis, he made no further responses to Winklevoss. As a result of this, we should expect to see some escalation in the conflict between DCG and Gemini in the coming hours or days.