The arrival of the new year has breathed fresh life into the crypto market, with cryptocurrencies significantly outperforming other asset classes like stocks, bonds and gold.
From January 1, the total market capitalisation of the cryptocurrency sector has grown a whopping 7.6%, substantially outpacing a 3.1% growth in the price of gold and a 2.5% overall growth in the performance of the total US stock market, according to data from the Bloomberg market index.
Overall bonds grew just 1.4% and commodities declined 4.1%.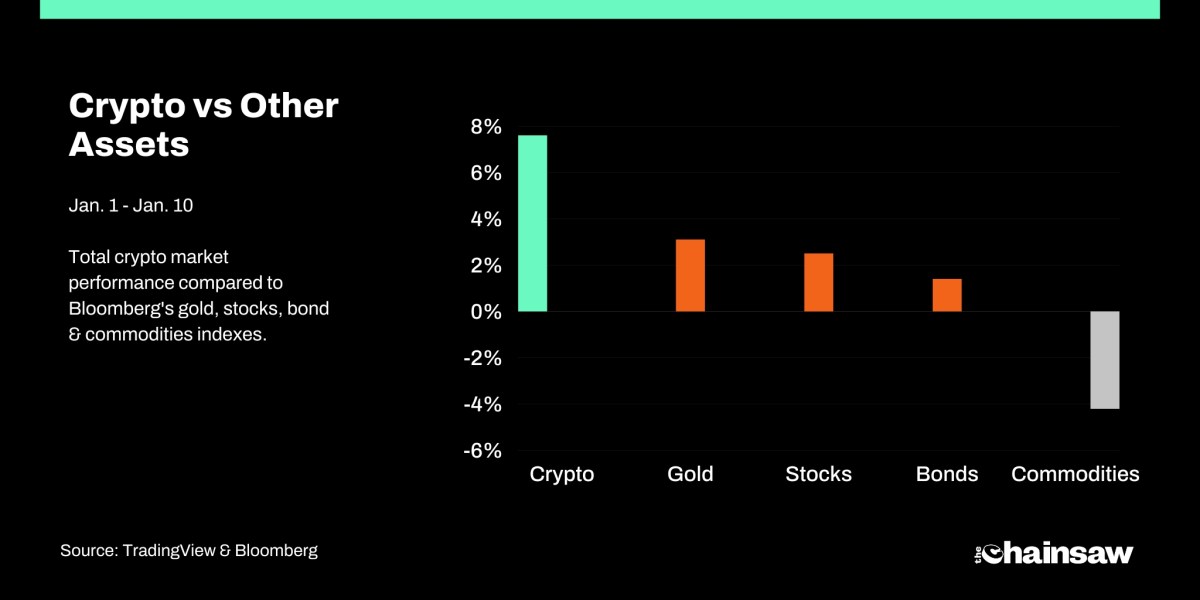 While this years micro-bull-swing isn't much when compared to the scorching market rally that crypto saw in January 2021 — the fact that that Bitcoin (BTC) and other crypto assets have been decisively outperforming stocks, bonds and golds in a worrisome macro-environment shows that the industry may finally treading more stable ground.
Why is crypto pumping rn?
There's a number of reasons behind this newfound crypto optimism. Zooming out, the global markets have been injected with some much-needed optimism as central banks from around the world look to ease policies of aggressive interest rate hikes as inflation finally begins to cool off.
Despite the fact that the crypto industry is still licking the wounds inflicted by the sudden collapse of FTX — which set off a domino-effect style string of bankruptcies and defaults — crypto investors seem to have taken heart from the less-worrisome macroeconomic data.
Zooming back in, Bitcoin (BTC) is performing well, posting nine straight days of gains — which quite shockingly — is actually its best gain streak since February of last year. BTC is currently trading for US$17,440 up 4.5% for the week.
Crypto optimism isn't just coming from Bitcoin however, with many investors looking to new developments for the second-largest cryptocurrency Ethereum (ETH) with a sense of growing excitement.
Ethereum and altcoins lead the charge
In March, a major upgrade is coming to the Ethereum blockchain, which currently stands as the backbone of the commercial crypto economy. The 'Shanghai' upgrade will see Ethereum investors able to 'unstake' the Ether (ETH) that they locked up during The Merge upgrade which occurred in September last year. At the time of writing Ethereum is changing hands for US$1,335 and has posted a weekly gain of 10%.
Additionally, face-melting rallies from altcoins such as Solana (SOL) and Cardano (ADA) have also added to the overall buy-side activity that has seen more than US$60 billion flow back into the cryptocurrency sector.