Australia has well and truly stepped on the scene when it comes to the prevalence of crypto ATMs, with more than 219 active crypto automated teller machines currently installed nationwide.
According to data from CoinATMRadar, Australia's installation of more than 148 crypto ATMs in the past four months has seen the land down under surge past El Salvador to claim the title of the world's fourth-largest crypto hub.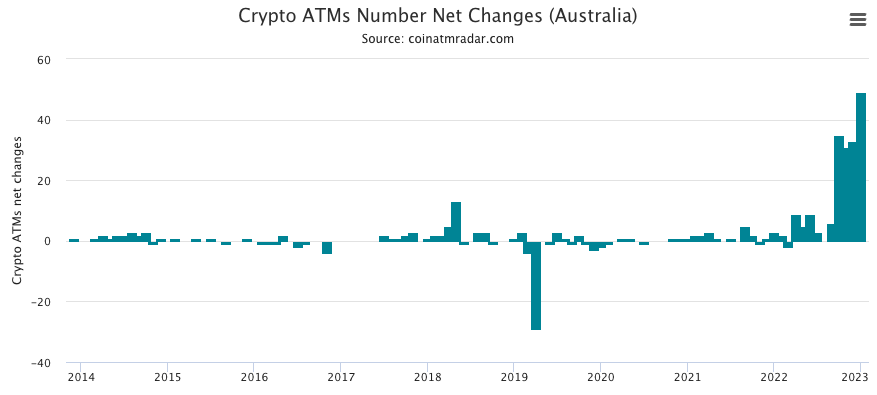 In September 2021, El Salvador's President Nayib Bukele made Bitcoin legal tender. As part of this move, the nation installed more than 200 crypto automated teller machines nationwide to make the use of cryptocurrencies such as Bitcoin (BTC) more accessible to everyday Salvadorans.
The rollout of Bitcoin as legal tender also saw Salvadoran citizens that signed up the country's official 'Chivo' wallet app rewarded with US$30 worth of Bitcoin. Despite a strong initial surge of Chivo wallet subscriptions, Bitcoin has largely failed to become a popular cash alternative for Salvadoran citizens, with a new report from the US National Bureau of Economic Research finding that just 20% of adult citizens in the country are still using the Chivo Wallet app.
While the wide scale deployment of crypto automated teller machines briefly saw El Salvador become the world's third-largest country for crypto ATMs — following the United States (86.9% of global crypto ATMs) and Canada (6.6%) — Spain's continued installation push has seen it move up to claim the world's number three spot.
At the time of writing Australia flexes seven more crypto automated teller machines than El Salvador.
Which Australian cities have the most crypto ATMs?
Melbourne leads the Australian crypto automated teller machines charge, with approximately 70 crypto ATMs installed. The coffee capital is followed in second place by Sydney with 61 crypto automated teller machines. Brisbane cruises into third place with roughly 47 ATMs installed.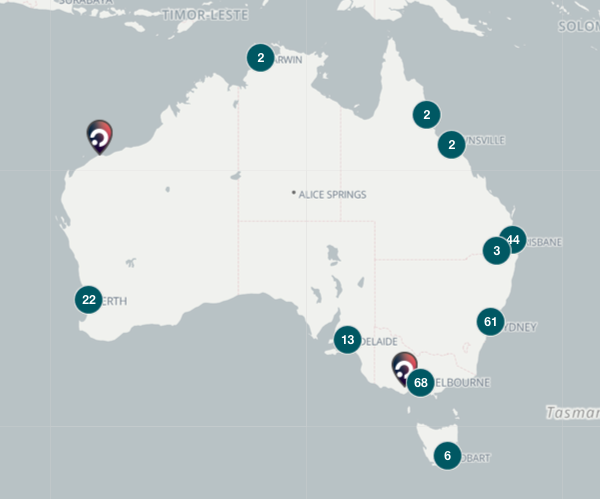 Despite now being the world's fourth-largest crypto automated teller machines nation, Australia accounts for just 0.6% of worldwide crypto ATMs, with the United States holding a whopping 33,558 crypto ATMs.
Even though global crypto prices tanked in 2022, more than 6000 crypto ATMs were installed over the course of last year.