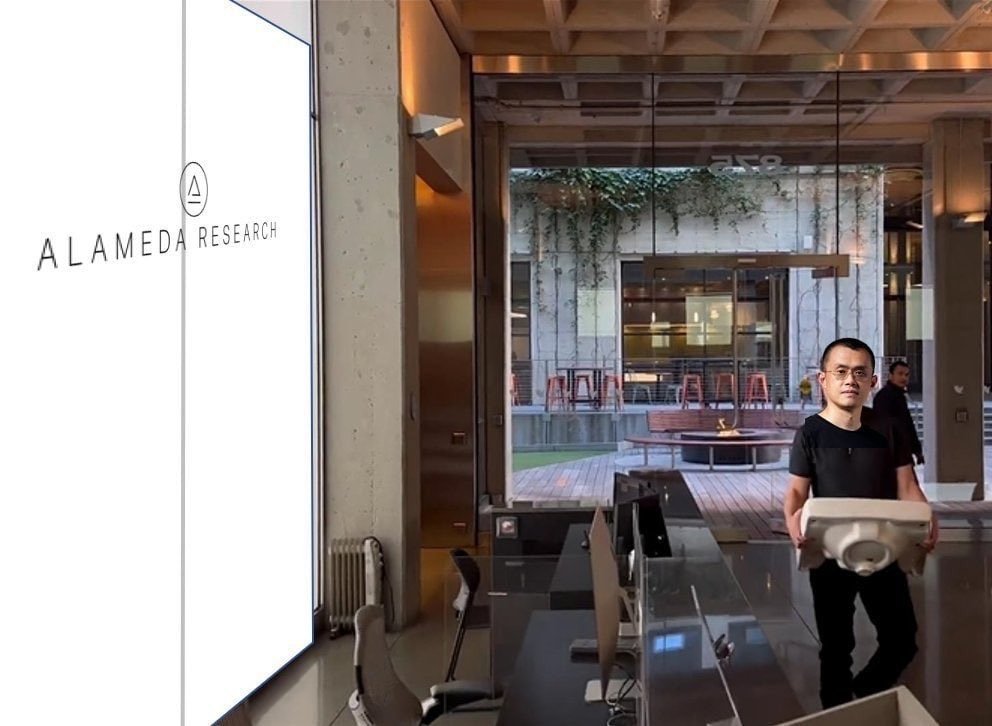 The crypto world has been shaken to its core following a sudden announcement that the world's largest exchange Binance will be acquiring one of its most prominent rivals FTX.
This morning, FTX's CEO Sam Bankman Fried (SBF) took to Twitter to deliver the news, saying that following some "due diligence" Binance is set to acquire his exchange.
The news brings the short-lived but still vicious battle between Binance's CEO Changpeng Zhao (CZ) and SBF to a conclusive end, with CZ being crowned the clear victor. CZ penned his own thread confirming that FTX had approached Binance for financial aid and that the world's largest exchange would be providing assistance.

If the deal goes through it would see two of the world's largest crypto exchanges combine. At the time of writing the two exchanges combined have facilitated roughly US$33 billion in trading volume over the last 24 hours, a whopping 25% of the total crypto transactions made across the world.
How did Binance acquire FTX?
The drama began three days ago when CZ posted on Twitter saying that Binance would start selling FTX's native token FTT because it was concerned about the financial health of FTX's sister hedge fund Alameda Research. CZ also said that he was bothered by SBF cosying up to regulators in Washington behind the back of other major crypto players.

A report by CoinDesk uncovered that of the US$14.6 billion worth of assets that Alameda owned, roughly US$3.6 billion of them were FTT tokens that the company makes itself. This seemed to be falsely inflating the total value of FTX.

Whether or not this actually posed a risk to Binance, CZ had just uncovered a way to potentially attack his competitor. Binance also owned a massive amount of FTT which it received from a strategic investment back in 2019. From there, CZ said that he saw the FTT tokens as a major risk to the health of Binance and announced that he'd already made moves to begin selling US$548 million worth of FTT.
While CZ said that he'd sell them strategically to "minimise the impact on markets" markets definitely felt their fair share of the fallout. By selling the FTT tokens, CZ spooked the market and created what's known as a 'bank run', where customers at FTX began rapidly withdrawing their holdings.

This kicked off a chain reaction that has seen the FTT token plummet more than 80% in the last 24 hours, causing the FTX exchange to go into a full blown liquidity crisis (when there's not enough money to pay out their own clients).
Binance acquires FTX
Essentially after CZ set the FTX exchange on fire, he's now swooped in with enough water to put out the blaze, all while being praised throughout industry for "helping" FTX through their insolvency crisis. 
The official Fintwit twitter account took a dig at SBF's well-known alignment with the Effective Altruism movement, where SBF made numerous comments of his intention to eventually donate his crypto billions to charity, with a crass caption: "mission accomplished: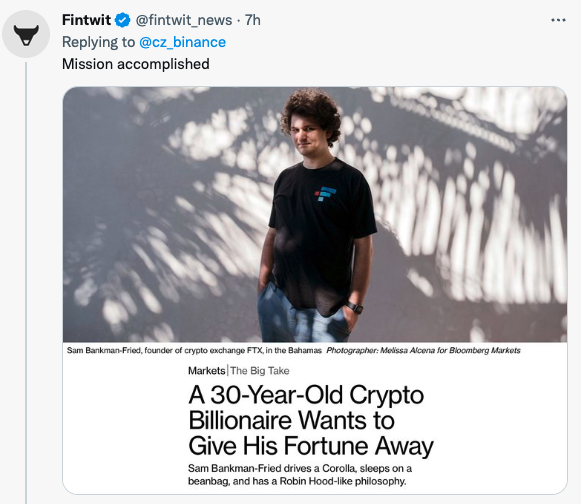 While the memes have been undeniably brilliant and there's definitely plenty to laugh about, Brian Armstrong, the CEO of US-based crypto exchange CoinBase took the opportunity to clear send his sympathies to anyone caught in the crossfire and clear the air of any speculation around Coinbase's exposure to the FTT fallout.
"Coinbase doesn't have any material exposure to FTX or FTT (and no exposure to Alameda)," Armstrong wrote. "This event appears to be the result of risky business practices, including conflicts of interest between deeply intertwined entities, and misuse of customer funds."
Armstrong added that while it may seem that more regulation could be the solution, increasing the amount of regulatory control over domestic entities may lead to more customers using risky, offshore entities like FTX.
"The temptation from events like these is to call for more heavy-handed regulation. This would just make the problem of crypto companies and crypto users going overseas worse."