A Melbourne brewery has created a new beer entirely with ChatGPT and other artificial intelligence tools. From the recipe up to its social media post, AI was enlisted to assist the staff in crafting the beer.
Dainton Beer, a brewery located in the outer-Melbourne suburb of Carrum Downs, recently launched their latest IPA (short for India Pale Ale for those not accustomed to beer that tastes like a beautiful pinecone) called the Machine Mind AI-Generated IPA. As its name suggests, it's a beer that has been (almost completely) put together by using AI platforms.
Why? Well, it's probably more accurate to say, why not? Speaking with The Chainsaw, Dainton Beer's head brewer, Cam Turner, tells us that the drink's conception was completely organic.
"[One of our colleagues] was playing with the app when we're in the brewing room and we came up with the idea that, you know, let's just type in 'AAA beer style' and see what it spits out," Turner said.
"The recipe that came out was more of an old school recipe, but it was really solid, so we just kind of thought: we could really run with this," he shared.
When it came to ensuring that the 'AI beer' was safe for consumption, Turner assured us that Dainton's team of brewers were "doing all the processing." 
"It was a good team effort," he said.
AI from start to finish 
If AI is able to generate a whole beer recipe from scratch, spitting out some slick designs for the resultant can would surely be a breeze, right?
The Machine Mind beer can's artwork was created with the help of hit AI art generator Midjourney. Among the rise of AI-powered services, Midjourney has now become a platform for digital artists to utilise to generate eye-catching imagery.
Alex, the designer behind the beer can's packaging, spent several days using Midjourney to craft the perfect artwork, and it didn't disappoint.
"It gave us all these amazing futuristic landscapes with different cybernetic beings enjoying a beer in different locations and settings," Nic Polydorou, Head of Marketing at Dainton Beer tells us.
"We would select one that we liked and get [Midjourney] to give us more iterations of that design until we landed on the [final] one."
However, as with many mainstream AI art generators, Midjourney has seen criticism for allegedly generating images with 'stolen' artwork without the knowledge or permission of original artists. The issue has led to the platform being named in a class-action lawsuit filed by three artists.
On this, the brewery said that it was initially not aware of the controversy about Midjourney, and found out after the product was designed. They acknowledged the "grey area" surrounding AI-powered tools.
ChatGPT does marketing
Polydorou also shared that the brewery used ChatGPT to come up with the name for the drink, as well as copy for social media posts.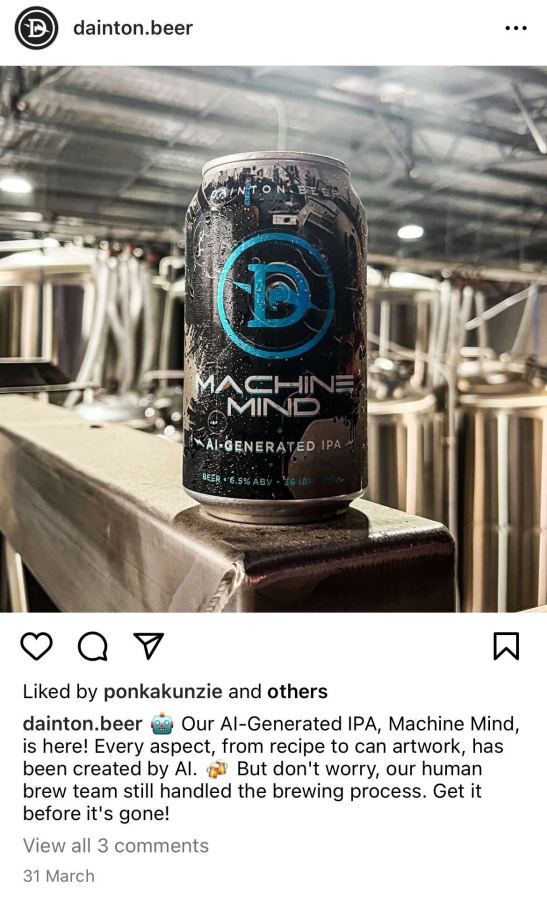 "Again, [we asked ChatGPT]: If it was a West Coast IPA created by artificial intelligence, what would you call it?"
"It came up with a whole list of names like Autonomous IPA and there were probably about twenty different names… then we basically asked it to write its own social media posts and blurbs… which was really fun." he added.
With ChatGPT being credited for things like predicting lottery numbers and saving a dog's life, at times it does seem that the AI chatbot is all-knowing and omnipotent. However, Dainton Beer noted that the brand's use of ChatGPT has only been for the right reasons.
"It's just another tool [for] cross-referencing just to double guess yourself… you just got to use it while it's there." Polydorou said.

If you intend to crack open a cold one with the boys with this beer, bad news: it's currently sold out online, but you might be able to find it in retail bottle shops.