Binance and SWIFT: The world's largest crypto exchange Binance has informed its retail users that they will be unable to transfer amounts less than US$100,000 to and from US-dollar-held bank accounts via the SWIFT payment system.
SWIFT is a network used by large financial institutions to transmit information and instructions concerning transactions and payments around the world.
Binance said that the upcoming restrictions on deposits and transfers from US Dollar-held bank accounts were caused by a decision from an unnamed 'banking partner'. The crypto exchange added that the banking partner was restricting access for all of its "crypto exchange clients," however at the time of writing no other major exchanges have made any announcements regarding deposits on SWIFT.
"This is the case for all of their crypto exchange clients. Please be advised that until we are able to find an alternative solution, you may not be able to use your bank account to buy or sell crypto with USD via SWIFT with a value of less than $100,000 USD after February 1st, 2023."

Binance
The news was announced to Binance users in an email sent out on January 21, with the exchange saying now claiming that they are actively seek a new SWIFT partner to avoid future disruptions. Binance clarified that the change wouldn't impact "corporate accounts".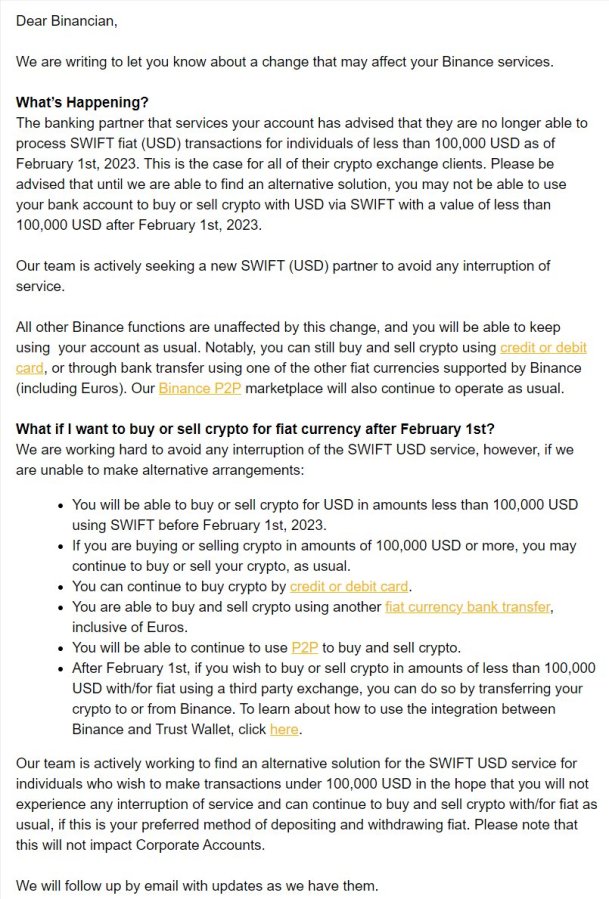 Credit cards
Binance did however stress that customers would still be able to use their credit or debit card to buy or sell cryptocurrencies, and that payments to or from third-party exchanges would still be processed.
Even though Binance chose not to name the banking partner in the email, a recent report from Bloomberg shows that the partner in question is the Chicago-based Signature Bank. Bloomberg clarified that Signature Bank imposed the new limit of US$100,000 in a bid to distance itself from the digital asset industry in the wake of the FTX collapse.
Binance and Australia
In recent news, Australian regulators are intensifying their investigation into Binance, the world's largest cryptocurrency exchange, amidst concerns that the exchange has been flouting local laws by mis-classifying Australian retail investors as wholesale operators.
The Australian Securities and Investments Commission (ASIC) is conducting a "targeted review" of the platform's derivatives business. the exchange has been in the spotlight since the US Commodity Futures Trading Commission sued the exchange, alleging it was operating an "illegal" exchange and a "sham" compliance program.
Binance's founder, Changpeng Zhao, and a former top compliance executive were also sued in the case. Binance Australia's former CEO has resigned, and ASIC had previously hit the exchange with notices about the mis-classification of around 500 customers.