OnlyFans crypto: The number of crypto projects in existence are probably in the thousands, and our exploration of altcoins led us to a token with a fun name: 'Cum In U'.
That name, ahem, aroused our interest. We dug deeper, and found out that the token is being promoted by OnlyFans creators on Twitter.
OnlyFans crypto: Influencers pump it
Browsing Cum In U's Twitter account shows numerous OnlyFans influencers with up to 400,000 followers endorsing the token.
One creator is 'Spicy Krystal' who has 228,000 followers on Twitter: on March 27, she posted a tweet reading: "Couldn't help myself. I now own crypto! I got a bag of $CUMINU before the 'Cummuniti' platform launch."
(Content warning: NSFW tweets)
Another OnlyFans creator, Erin, who boasts 250,000 followers, shared a similar message: "I liked the look of $CUMINU so much I had to get a small bag. If Cummuniti blows up I'll be riding it."
It's not just OnlyFans, too: a Pornhub actress and a small creator from 18+ livestream site Chaturbate also promoted the token.
"I got a behind-the-scenes look at 'Cummuniti' and it looks great… follow $CUMINU token on social for the launch," the Chaturbate creator said in a video.
Besides Twitter, entering '$CUMINU' on Reddit's search bar also returns with numerous posts on different subreddits, all of which are highly similar copy-paste texts that appear to promote the token.
"The crypto version of OnlyFans!", "The adult szn is here!" the posts read.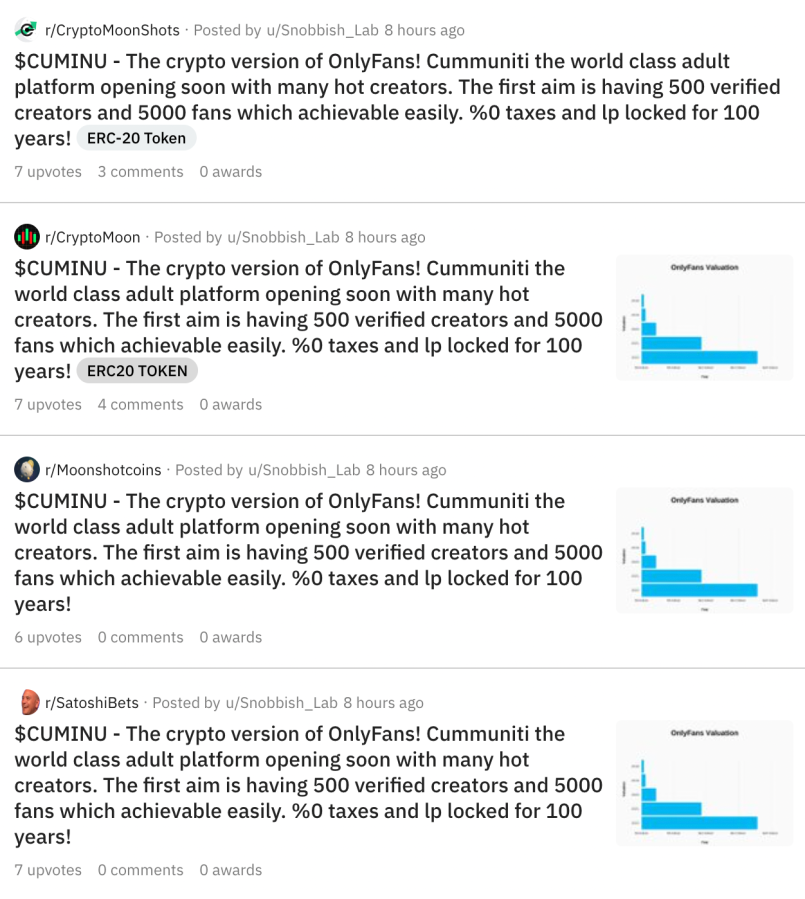 What's 'Cum In U'?
No, we're not referring to the sexual act.
'Cum In U' was launched in May 2021 on the Ethereum blockchain. On its official website, the crypto project describes itself as one that aims to "revolutionise adult entertainment forever."
Around the same time of its launch, it also released its native token, $CUMINU, with a maximum supply of ten billion.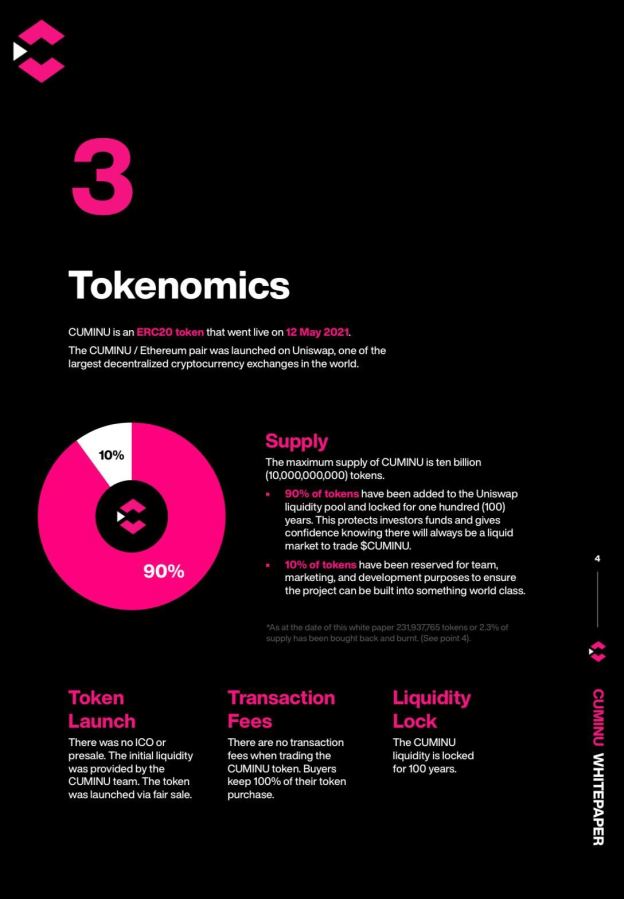 In its March 2023 whitepaper, Cum In U's roadmap details that one of the project's main goals is to launch a decentralised 18+ adult video platform, which is yet to go live as of writing.
Cum In U compares itself to OnlyFans and Chaturbate, and says that the platforms have faced "controversies related to content moderation, concerns over exploitation and the reliability of payment providers." So, it's here to address the issues and put creators and fans first via blockchain technology.
On Twitter, an account with the handle 'Cum In U Creator Recruiter' that claims to be affiliated with the crypto project also hosted free NSFW livestream events early last year, rewarding users with US$100 worth of BNB token – the native token of the world's largest crypto exchange Binance – just for watching.
However, the account has been inactive since February 2022.
Besides a decentralised 18+ platform, the project states in its ambitious roadmap that it aims to launch a VR metaverse, AI chatbots, and NFTs.
Telegram circle jerk
It is unclear who founded Cum In U or how many people are behind the project. On Cum In U's Telegram group chat, which has over 1,900 members, five people (including one developer) are listed as admins.
Most recently, the Cum In U developer hinted that it reached a deal with "the wife of a famous football player" who has over 18 million followers on Instagram to presumably promote the project.
Influencer-endorsed crypto projects
Cum In U is not the first, and will likely not be the last crypto project that leverages influencers to promote itself. High-profile celebrities like Kim Kardashian and Justin Bieber landed themselves in hot water for promoting crypto or NFTs without disclosing that they've been paid.
Most recently, the US Securities and Exchange Commission (SEC) charged Lindsay Lohan, Jake Paul, and five other celebrities for promoting crypto without disclosing that they were compensated.
$CUMINU's price
$CUMINU is worth US$0.000969 (AU$0.0014) per token at the time of writing.
The crypto's price looks to be slowly climbing too, possibly thanks to aggressive promotion from OnlyFans influencers. $CUMINU went up over 44% in the past week, increasing from US$0.000732 (AU$0.0011) to US$0.000968 (AU$0.0014).
When will the token reach its clima–uh, highest price? We shall wait and observe.