Nobody is exactly sure why April 20th – or 4/20, more specifically – stirs up such strong emotions for some in the crypto scene. What began as a catch phrase often used by stoners has since become a meme, which subsequently made its way into crypto. Now, people are creating memecoins – tokens that appear to have little to no real-world utility – to 'celebrate' the occasion. And they are skyrocketing in value.
In observance of 4/20 in 2023, here are three memecoins that are currently pumping.
1. 4/20 Pepe Coin ($PEPE)
A 'Pepe Coin' ($PEPE) created less than a week ago by an unknown individual or group is receiving massive attention and hype on Twitter. The project says it aims to be "the most memeable memecoin in existence."
The token, unsurprisingly, has a maximum supply of 420,690,000 tokens. On Pepe Coin's Twitter page, there doesn't seem to be much going on, except that the account has been sharing pepe memes, and making fun of other memecoins like Dogecoin and Shiba Inu.
However, $PEPE is now listed on NFT creator site Manifold as an accepted payment option. The price of a single $PEPE has surged since its launch, up over 320% from US$0.0000000645 to US$0.000000274 at the time of writing.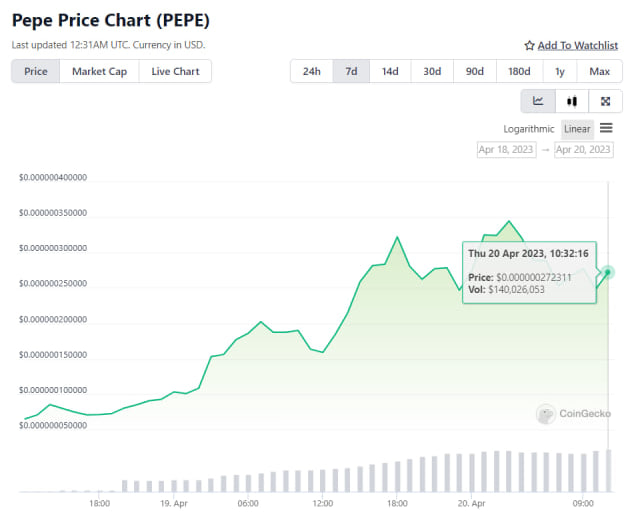 Author's note: Pepe Coin's website URL is being flagged as 'phishing' by my device's antivirus software. So that's something to consider.
2. Arb Doge AI Coin ($AIDOGE)
Arbitrum AI Doge ($AIDOGE) is built on the Arbitrum blockchain and, as its name shows, it is a marriage of two of the hottest topics in the crypto space right now.
It is unclear when exactly the project launched: Arb Doge AI's Twitter account was created in November 2022. But the project only sent out its first tweet on April 9th, ten days ago. 
"Never consider $AIDOGE as a MEME," the project's Twitter bio reads. It describes itself as "an experiment in the Arbitrum ecosystem," and that it is a "deflationary token." It is unclear what exactly it is experimenting with as of now. However, products named 'NFT Prologue', 'AIDOGE Vault', and 'AI Lab' are listed on its site as 'coming soon'.
The price of an $AIDOGE token has increased over the last ten days, jumping over 2,000% from US$0.0000000000106 to US$0.000000000233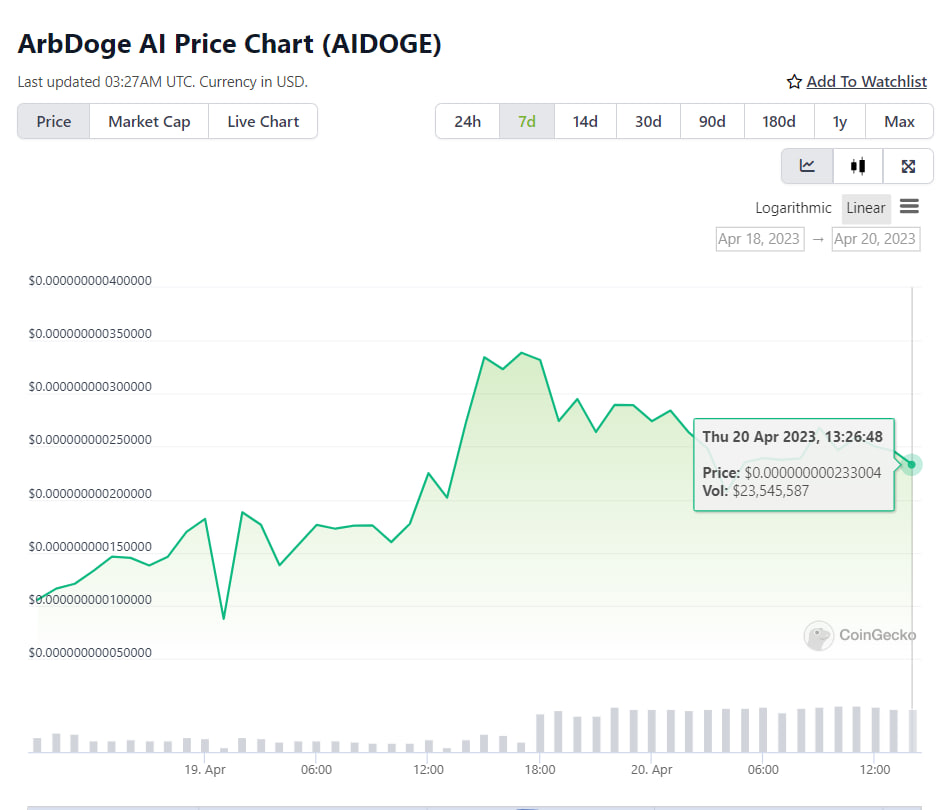 3. Floor Cheeseburger Coin ($FLRBRG)
Remember Beeple, the digital artist who made mainstream news after selling an NFT for US$69 million (AU$102 million)? He's now also a promoter of memecoins… somewhat.
Ahead of 4/20, Beeple shared a tweet cautioning his followers not to look into a token called Floor Cheeseburger ($FLRBRG).
"I just want to be very clear this is simply just a cheeseburger that fell on the ground. It should not be taken as financial advice of any kind," he wrote.
On wallet address tracker Etherscan, Beeple is listed as the top holder of $FLRBRG, holding over 67% or 47 million tokens.
The artist received criticism from some for supposedly promoting a memecoin, but Beeple quickly hit back. "This is exactly the problem with [the] space right now. People react first, then think later, then wanna blame others for their dumbass financial decisions," he tweeted.
Around the same time when $FLRBRG went live, some crypto community members on Twitter noticed that holders who supposedly bought the coin are mysteriously left with… zero $FLRBRG in their wallet.
After April 20th, the price of the above tokens could fall drastically as people rush to sell them to make quick profit. Special dates like this are a good reminder that the crypto scene is a minefield, and as always: please perform due diligence like Taylor Swift.