There's no denying that fully-immersive metaverse experience Zero Latency is, by now, a well-established player in the VR market. The virtual reality experience – where by groups of friends can game together in location-based VR entertainment – has experienced a decent amount of hype amongst the metaverse and Web3-savvy crowds since its 2013 launch. And it is currently embarking on further expansion across the globe in an attempt at world domination. But international competition is breathing down their neck.
At Zero Latency, players engaged with the VR experiences are given wearable equipment and are thrown into a purpose-built shed to navigate various virtual reality scenarios as a group. The equipment Zero Latency provides is wireless, and players are free to roam without obstruction. Activities include cooperative and competitive games like zombie survival, sci-fi battles, and dramas in haunted houses. The company operates VR entertainment centres in several countries, including Australia, the United States, Canada, Japan, and Spain.
While they can show all of the trailers they like on YouTube, they can't convey easily about what it is like to play the actual game.
Zero Latency: Competition is Rising
We checked in to Zero Latency on the Gold Coast. TLDR; it was actually was one of the best experiences with technology in our lives. It was proper mind-blowing. But what competition do they have in the global VR gaming market? And are they keeping abreast of the gaming technology?
Already in Australia there are some compelling competitors with (according to them) better technology. Called Ready Team One, they offer VR roaming games but with more sensors.
Tim Ruse, CEO of Zero Latency, assured The Chainsaw that Zero Latency was still expanding. "Expansion continues. We have close to 70 sites now all over the world."
While Zero Latency is a private company, recently, a private equity firm called Advent acquired a large chunk of it. Ruse says that, as a result, they're planning a stage of rapid growth.
"We thought it was a good opportunity to bring on a some more sophisticated investors, they could help us grow the business and bring in their network and talent pool. Especially especially coming out of COVID, which was quite a tough 12 to 18 months for most location-based or out of home entertainment businesses."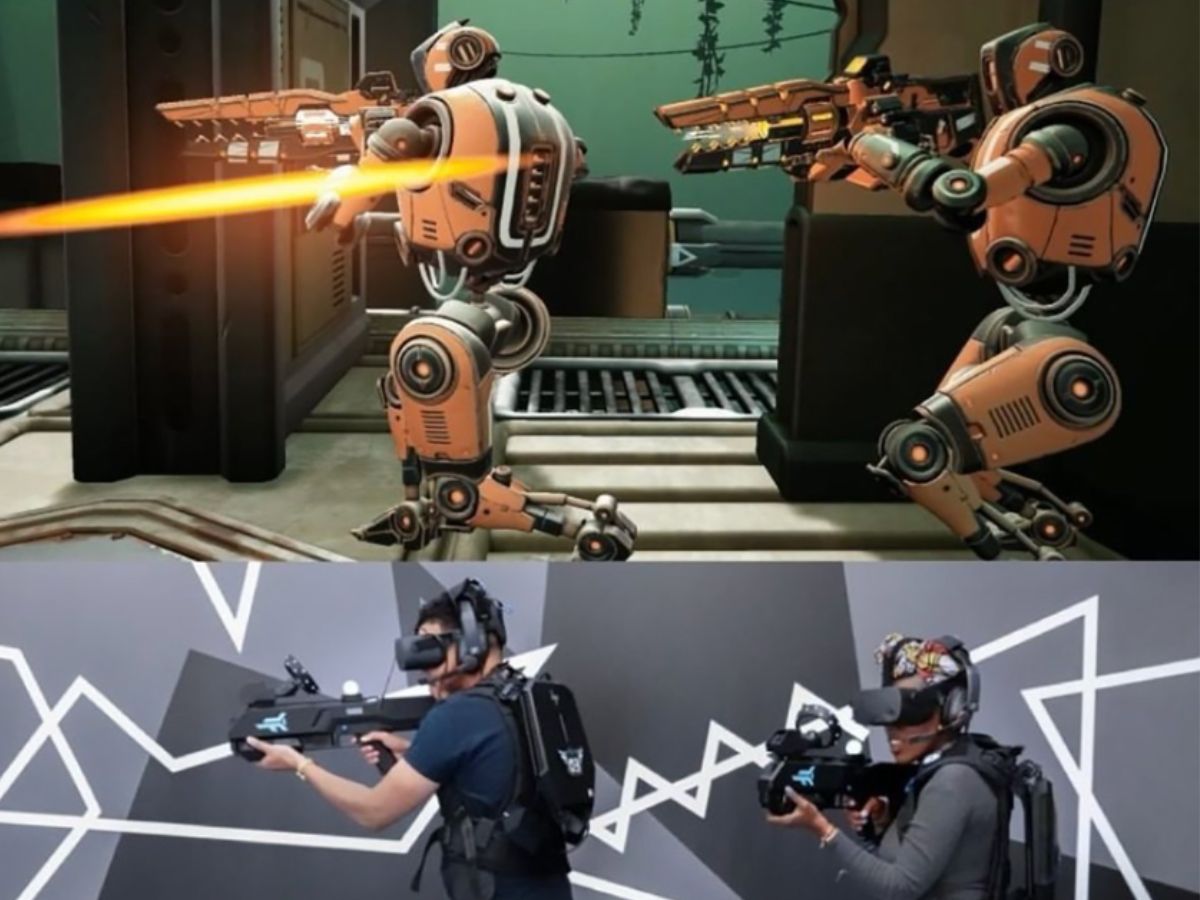 Ruse does reassure us that the turnover is strong and it is a profitable business. "We license out the technology, and we have a recurring revenue stream from those operations. So it is very much a cashflow-positive business. We've always been big believers in making sure we're building a sustainable and profitable business. We reinvest a lot of what we make, we're not at that point where we're all about maximising profitability. It is is very much about continuing to grow and invest in content and invest in marketing and the brand and investing in the platform."
With other competitors breathing down their neck, it will be interesting to see the next stage of Zero Latency unfurl.
International competition
When it comes to international competitors, Zero Latency are facing a wall of competition. And it is a Chinese company who are probably their stiffest competition. StepVR are not mucking around with their offerings. They provide a fully immersive space in warehouses of astronomical size, and up to 40 people can play in one game, versus the Australian companies who offer around 8 to 12 players per game.
The StepVR experience has the usual shooting games, plus sports games like tennis, and even VR driving games. So racing at 300kms around a famous racetrack feels real, with the added plus of "you can't die in a fireball." You can also train for jobs and go shopping in the VR. This is truly wild stuff, and it is spreading fast across the world.
If you have a spare warehouse-sized space lying around and keen on getting some skin in the game, local franchisees can buy into StepVR – the business comes as a kit that you can throw together in 5 weeks. 

STEPVR was founded in 2013 by Guo Cheng, who has a doctorate from the Delft University of Technology in the Netherlands. At the moment, StepVR has built over 140 centres across China and plans to expand into Singapore, Japan, and other markets in the coming year. 22% of the partners who have signed up have opened a second store, and STEPVR now says it has 1 million users.
Even more mind-blowing is their Metaverse Gate product.
This device means that if players all have a "metaverse gate" in their home, they can still all play together, online, in the same immersive way, but the huge communal space is not needed. This daddy of all gadgets will be available in Korea, Japan, Singapore, the Middle East, North America, and Europe in the coming years.
Gameplay
Zero Latency have had a stab at moving into other business areas with their tech. The gameplay in the hyper-realistic space-station game (Singularity) that we chose to play was amazing. But can it translate to other industries?
Ruse explained, "We did some work for the army, doing task training. We also did some work for the real estate industry, where instead of looking at rendered pictures of the home, potential buyers could put on a VR headset and see the property like they were actually there, walking around in it. It was interesting concept."
However the VR experience proved to be too truthful. "Depending on how good your apartment is, it's a lot easier to sell an apartment via a render. The top-tier three bedroom penthouses and two bedroom apartments sold quite quickly, but the one-bedroom [units] were a lot smaller and struggled to sell. The VR was too real. When you put on a headset and walk around you can see how close the fridge is to the couch. But our roots are in entertainment and gaming and having fun so that is where we're really focused."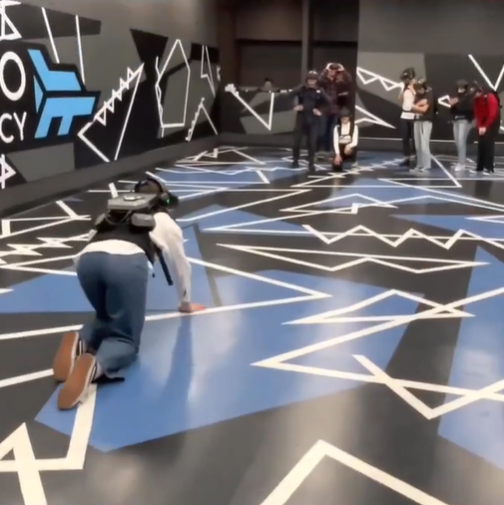 One other player…
So why have such "fully immersive" games caught our imagination? There was one other game player at Zero Latency on the Gold Coast. Stephen Kelly was at the venue to play the Singularity game. He is a long-time sci-fi fan and software developer who has spent years reading about virtual reality gaming before actually trying it.
He said, "Fully immersive gaming has always been part of sci-fi fantasy. An example is Ender's Game, which is now a movie. It takes place on a space station orbiting the earth, and a core part of the plot is that they played games inside a simulation on board. In Star Trek, there is the Holodeck, which is a simulator that allows the crew members in their off-time to imagine they live in different realities or different worlds. Inside a simulator you can live a totally different life."
There has always been the promise of simulated worlds since the early days of gaming graphics. Combined with the release of movies like Tron, we have all been imagining what is possible before it was ever here for us to experience.
Said Kelly, "The concept has been around for decades, especially with the release of Doom, which was the first game with a true first-person perspective. That's evolved into really complex immersive games like Call of Duty and Fortnite. But they aren't fully immersive — yet."
Better than imagined
Kelly explained, "The Zero Latency game was far better than I imagined it would be. I didn't expect it to be so smooth and and fully immersive with all the graphics. It was immediate as if you were right there, and there was no experience of skipped frames or lag, everything just flowed."
So what are the criticisms? "It's expensive. I can understand why, but is it worth it as a gaming experience? People spend hours and hours on their consoles because it's really engaging. At Zero Latency, it was over too quickly. If I had unlimited budget I would build a huge room in my house, install it, and invite my friends over. I could do it for hours."
This is where the metaverse gate might be the final boss product in our fascination with VR gaming. People who love it can be immersed for hours without leaving home. And, theoretically, if you play online with multiple friends, it still can be considered a social event.
In-person, however, there are different things to factor in about the human condition. Ruse says there is a reason why gameplay at Zero Latency is short. "We used to have the games run for 45 minutes, over a much larger space. But we found that when we did our market testing, it's hard to find like a large space like that in cities without any pillars. And then timing wise, 45 minutes is quite fatiguing. I reckon after 30 minutes, people start to get tired quite quickly. I think 30 minutes is probably the sweet spot. We try to compare it to ice cream. We want to give you enough ice cream, so you enjoyed it and you want to come back, as opposed to giving you too much ice cream."
One thing is for sure: We at The Chainsaw will be back.