When it came to making money in crypto investing, Aussie women outgunned the men reporting a 23% gain year-over-year. This compares to blokes who saw their gains decline 4% over the same period. The average female investor raked in roughly AU$11,262 in crypto gains with men lagging behind at AU$10,917.
Speaking to The Chainsaw, Swyftx's Head of Partnerships Tommy Honan said that while there's "a lot of empirical evidence that shows women are better investors than men" the rate at which female investors grew their profits was genuinely surprising.
"The fact female crypto users are reporting larger profits isn't really a shock. What is surprising is how quickly female investors grew their profits in this market. We were expecting an across the board decline given we undertook this survey in the depths of the crypto winter," Honan said.
All the evidence points to the fact that Aussie women are much better at taking profits than their male counterparts explained Honan:
"We suspect a lot of female investors banked regular profits during the second half of 2021, when the market was at its height."

Tommy Honan, Swyftx.
"We also know that female crypto users, as a rule of thumb, place a real premium on having a good understanding of the market before they engage with it. This is important because the survey shows a high correlation between market understanding and reported profits," he added.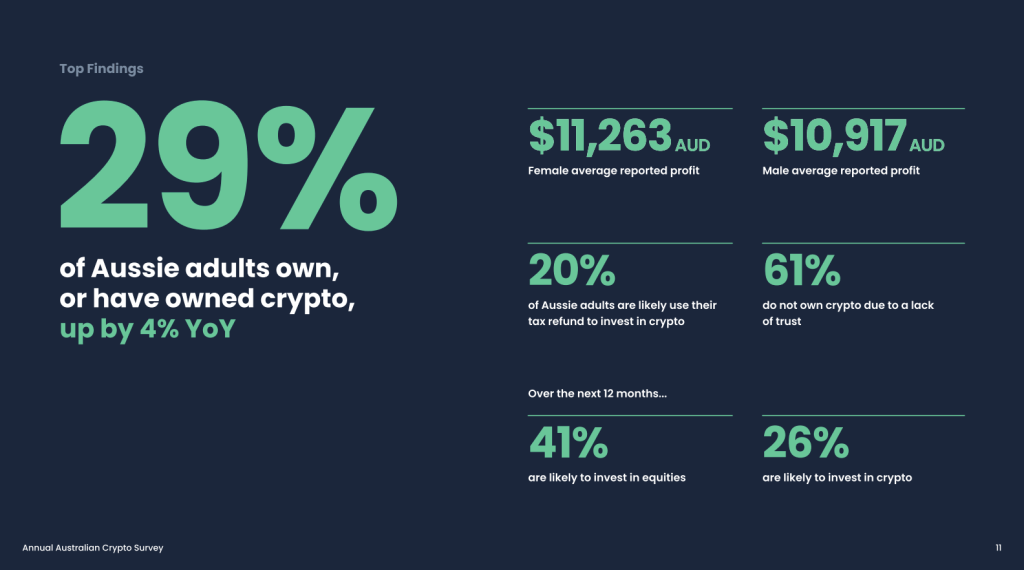 Women in crypto
These findings were uncovered in the second Annual Australian Crypto Survey by Aussie crypto exchange Swyftx undertaken by market research firm YouGov.
The survey, which quizzed 2,609 Australian adults in July, found that despite not-so-brilliant market conditions staring down the crypto industry, the number of people engaging with digital assets in Australia continues to grow.
According to the survey, overall crypto adoption in Australia has witnessed a 4% increase from this time last year, estimating that 4.1 million Australian adults — 21% of the population — now own some form of cryptocurrency.
Seemingly unphased by the recent downturn that has seen the total crypto market fall approximately 69% since its all-time-high in November last year, the survey found that a significant number of Aussies are planning to invest in the industry.
It found that 26% of those surveyed reported an intention to purchase some form of crypto in the next year. Extrapolated on a population level, this figure amounts to roughly one million Australians who remain committed to investing in digital assets.
Of these one million soon-to-be investors, the younger generation was very much leading the charge, with 42% of millennials and 32% of Gen Z'ers signalling that they're watching and waiting for the right time to buy.
Confidence
Speaking to these numbers, Honan said that while the bear market has certainly tripped up investor confidence, Australians are seemingly more confident in the future of crypto than ever before.
"This is the first real sign that Australians are looking to a future beyond the crypto winter. Even in the midst of a bear market, there's belief in the fundamentals of cryptocurrency and blockchain technology, and this is manifesting itself in a high intention to buy digital assets among under 50s," he said.
The most substantial hurdle preventing Aussies from getting involved in the world of digital assets was the lack of regulation with 43% of respondents who have never owned crypto expressing concern that the market is "not well regulated".
Addressing these concerns, Honan explained that industry is hopefully looking forward to some positive regulation in the near future:
"At the moment, we're expecting the introduction of regulatory guardrails sometime next year. Depending on the form these take, you could see a very rapid increase in adoption, with a positive feedback loop created between the retail and business sectors. If we don't get regulation over the next 12 months, you're likely to see decreased enthusiasm around crypto adoption," he said.
Additionally, the survey outlined some interesting figures on the increased utility of cryptocurrency for payments. A whopping 53% of respondents claimed that they used cryptocurrencies to purchase goods and services, marking a 10% increase from last year.
Showing further evidence of growing evidence of long-term thinking in the space, 66% of all surveyed crypto owners would like their superannuation funds to include an option for crypto investment.
Ultimately, while the prices of crypto assets themselves slant downwards, the overall trend for overall adoption and utility is pointing up.