The Humane AI Pin is a new device that was launched with the idea of revolutionising the way we interact with technology. 
It is a screenless, standalone wearable that uses artificial intelligence to seamlessly integrate into our daily life, without distracting us from the real world. That's the plan, anyway.
The Humane AI Pin was created by Humane, Inc., a tech startup founded by two former Apple employees, Imran Chaudhri and Bethany Bongiorno. They received funding and support from OpenAI and Microsoft, and collaborated with fashion brand Coperni to showcase their device at Paris Fashion Week.
The device had both positive and negative reactions. 
The Humane AI Pin is powered by a Qualcomm Snapdragon chip. It runs its own AI that is based on GPT-4.
The device can make and receive calls, connect to the internet, and answer a wide range of questions, using a tiny laser projector that displays information on the palm of the owner's hand.
This has many people wondering why a laser image displayed onto a hand is superior to a phone screen.
The Humane AI Pin, the creators said, is not meant to replace smartphones, but work with them. The device was intended to reduce screen time and enhance focus, creativity, and well-being.
The Humane AI Pin was also designed to be respectful of privacy. The company claimed it does not collect or share your personal data. 
How does the Humane AI Pin work?
The Humane AI Pin works by using a combination of voice, gesture, and touch inputs to communicate with its owner. 
It could be clipped to the front of a shirt or coat. To activate the device, you simply say "Hey Humane" and ask your question or give a command. The device would then project the answer or response onto the owner's hand, using a laser.
Users could also use gestures to control the device, such as swiping, tapping, or pinching their hand. For example, users could swipe left or right to navigate through different options, or pinch to zoom in or out. They could also touch the device itself to perform certain actions, such as muting a call or pausing a song.
Not everyone is a fan.
The Humane AI Pin could also apparently sense the user's emotions, and adapt accordingly. For example, the device could detect when its owner was in a meeting, and automatically silence notifications. It could also sense when users were stressed, and offer relaxation tips or soothing music. The device could also learn from preferences and habits, and provide personalised suggestions and insights.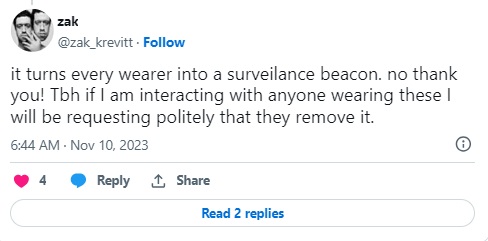 What does the Humane AI pin cost?
The AI Pincosts $US$699 (AU$1,087) for the complete system. This covers the device itself, two battery boosters, a charge case, a charge pad, an adapter and a cable. For US$24 (AU$38) per month, the Humane Subscription includes a dedicated phone number for the user's AI Pin and unlimited talk, text, and data. 
This subscription covers the user's cloud storage. Plus they get access to Humane's AI-powered services. There was also no limit to queries asked of it.
What Can You Do With the Humane AI Pin?
The Humane AI Pin could do many things that you would normally do with your smartphone, but they claimed it does it in a more natural and convenient way. Here were some examples of what you could do with the Humane AI Pin:
– Make and receive calls, texts, and emails. Users could see who was calling or messaging them on their hand, and answer or reply with their voice. Users could also use the device as a speakerphone, or connect it to a Bluetooth headset.
– Browse the web and get information. Users could ask the device any question, and it would search the web and display the answer on their hand. Users could also browse through web pages, images, videos, and maps, using gestures to scroll, zoom, or select.
– Listen to music and podcasts. Users could ask the device to play their favourite songs or podcasts, and control the playback with voice or touch. Users could also discover new music or podcasts based on their mood, taste, or activity.
– Manage calendar and tasks. Users could ask the device to create, edit, or delete events and reminders, and see them on their hand. Users could also sync their calendar and tasks with their other devices, and get notifications and suggestions for their schedule.
-Track health and fitness. Users could ask the device to monitor their heart rate, blood pressure, sleep quality, and other vital signs, and see them on their hand. Users could also set goals and track your progress, and get feedback and tips for wellness.
Sam Altman, CEO at OpenAI said, "We believe in a future where artificial intelligence amplifies human potential, and Humane shares this vision. We're proud to be partnering with them to harness AI and redefine how we interact with technology — and the world."
Will it be a blockbuster?
It depends. The Humane AI Pin wants to be more than just a gadget. It is a vision for a new way of interacting with technology, that is trying to be more human. But is more tech the right step for this ideal?
The Humane AI Pin is not for everyone, and it is not without its challenges and limitations. The device is still in its early stages, and may not work as smoothly as expected. The device is also quite expensive. 
While a light comes on when it is recording, the idea that anyone could be recorded in a gym or some other place without permission is worrying to some people.
However, it could be a game changer as we integrate communication and AI into our lives rather than holding it. 
If you are interested in buying it, the waitlist is here.