Keeping up with news coverage about artificial intelligence (AI) – and how Government and industry is dealing with it – can be overwhelming, but now it doesn't have to be. An Australian lawyer and technology enthusiast has built a whole website that tracks the state of AI regulation around the world.
Raymond Sun, a technology lawyer and programmer based in Sydney, designed the Global AI Regulation Tracker that documents developments in AI law across North America, Europe, Australia, China, Japan, Indonesia, India, Brazil, and Saudi Arabia.
The site, updated daily, lays out an interactive map that lets users click on a country of interest to retrieve a summary of what has been said about AI in that region, and what actions have been taken. Information supplied includes government announcements, official documents, draft bills, and senate reports.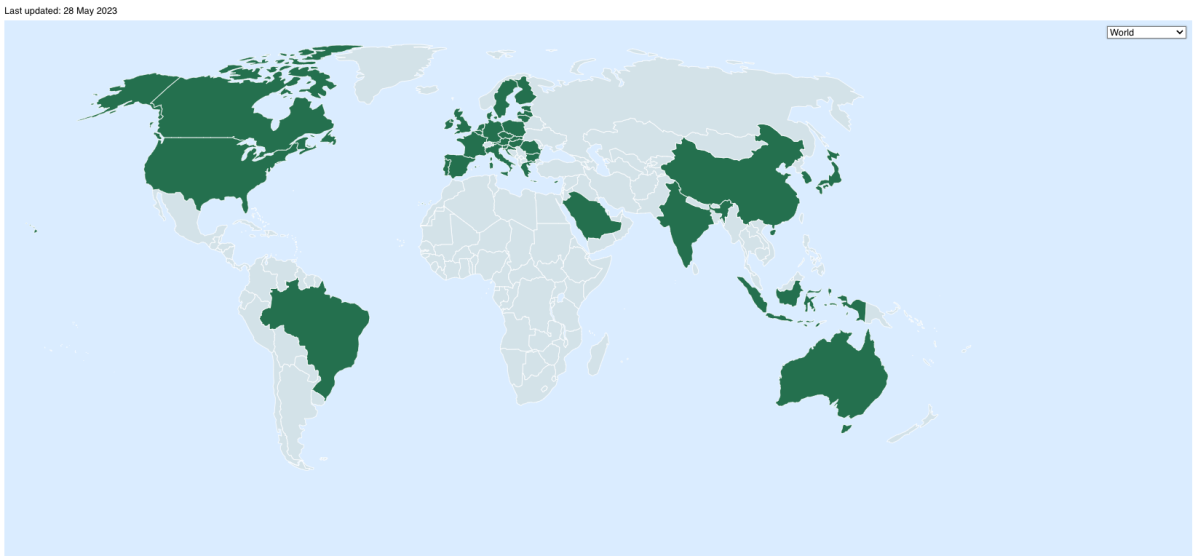 Speaking with The Chainsaw, Sun says that he spent a weekend building the tracker, but spent a year understanding what to look for when it comes to AI law, and then summarising the information in a concise manner.
"I built the tracker because I wanted to consolidate all my existing knowledge and content into one place for easier reference. I also made the tracker free to access because I want to spread awareness of AI regulation – which is super important for our future – as much as possible to the non-lawyer community," Sun adds.
Australia is lacking in AI regulation
With the discourse surrounding AI only becoming increasingly heated, calls to regulate the technology have grown.
Last week, OpenAI CEO Sam Altman embarked on a 'European tour' to the UK, France, Germany, Poland, and Spain and met with top regulators to address AI rules. Altman, in the end, described his European tour as a "very productive week of conversations", and says OpenAI has "no plans to leave" the European market.
Here at home, Sun tells The Chainsaw that: "While Australia leads in thought leadership on AI ethics, it is relatively behind other advanced economies on AI regulation."
"Countries [and regions] which are generally considered at the forefront of AI regulation are China, the EU, Canada, Brazil, and South Korea, [all of] which have draft laws on AI which are currently being reviewed or near the final stages of being enacted."
"The Australian government's report on AI regulation – in response to the public consultation round on the same [topic] – is long overdue. It seems that the Australian government is keeping its options open, and waiting to see how regulatory approaches in other jurisdictions play out," he explains.
In the meantime, Australia relies on organisations like the CSIRO's National AI Centre and the Human Rights and Technology Project to drive AI thought leadership on regulation.
Feedback for the Global AI Regulation Tracker has been "overwhelmingly positive" so far, Sun says. His LinkedIn post about the site received over 100,000 views from both AI law experts and professionals from other fields.
Sun also shares that more countries will be on the map soon.