Coffee NFTs: Wade Preston doesn't let Web3's hype set him back. Despite what the haters may say, he's adamant that the tech truly does have the potential to change the status quo. For Alabama-based Wade, his recognition of the technology's opportunity to fix broken systems started in Liberia following the nation's second civil war.
He was studying his Master's in Nonprofit Organisational Leadership back in 2011 and saw an opportunity while working with entrepreneurs attempting to grow small businesses within villages on the ground.
Liberia, like many other West African nations, has struggled to overcome its deep-seated challenges with corruption, food security and economic instability. In 1979, the country was well on its way to becoming one of Africa's fastest developing nations, but two civil wars and an Ebola outbreak saw the country's development take a turn for the worse.
Not-for-profit
Wade worked closely alongside a not-for-profit that focused on economic development, education and restoring healthy communities. Wade recalls the most powerful community building aspect came from getting a soccer league started amongst the local villages sprinkled around the central-Liberian town of Gbarnga.
"Liberia had just come out of a brutal civil war, so you wouldn't believe the impact that just getting people together to do something like that had."
However, Wade sat up in his seat when he noticed the positive ripple effects of economically-oriented micro-lending programs flowing out across the economies of remote African communities.
"I worked with this project that did micro lending, and used the micro-lending for business mentorship. A portion of the interest paid on the micro loans got channelled into funding their local school systems."
Coffee NFTs and charities
While Wade admits that charities and non-for-profit organisations play a crucial role in helping struggling communities survive through crises like these, he believes they often fall short of solving the complex, generational issues at the core of developing nations.
"I started seeing these market-oriented, long-term-focused fixes for generational poverty and I realised that charity can do some cool stuff, but it's got limits. If you need a clean water well built, that's a problem that charity can solve and people can have that access to clean water because of charity, which is totally awesome."
"But when you're talking about generational issues like education, and getting people properly out of subsistence farming, and actually optimising for their human potential … charity just can't do that", Wade said.
It was then and there that Wade, still a starry-eyed philosophy major from Auburn University Alabama, realised the limits of existing efforts. He knew if wanted to really help people the way he found most meaningful, he'd have to focus on providing market-oriented solutions.
Markets
"You have to have markets at work. Even if charity pays for the schooling, that doesn't fix the market issue of kids out there picking crops. Who cares if there's a school there, if the kid turns eight and he's old enough to go pick cassava [a root vegetable], he's gonna be out in the field because he's gotta be."
Wade quickly realised that harnessing some type of export they could use back in home Alabama was a sure fire way to making sure that struggling economies in developing nations could have a guaranteed market to sell their products at a profit.
"Witnessing this was a big lightbulb moment for me and my wife being on the ground over there. We were like, 'We want to be a part of this work. We're gonna figure this thing out and deliver value here'."
Building a coffee chain to drive impact
"Coffee is a $100 billion industry that is predicated completely on people who live between the 20th parallels in some of the most economically disadvantaged places on earth."

Wade Preston
That was when Wade and his wife decided to launch their own coffee business Prevail Coffee, which has now evolved into a fully fledged multi-location, specialty coffee chain in three different locations across the state of Alabama.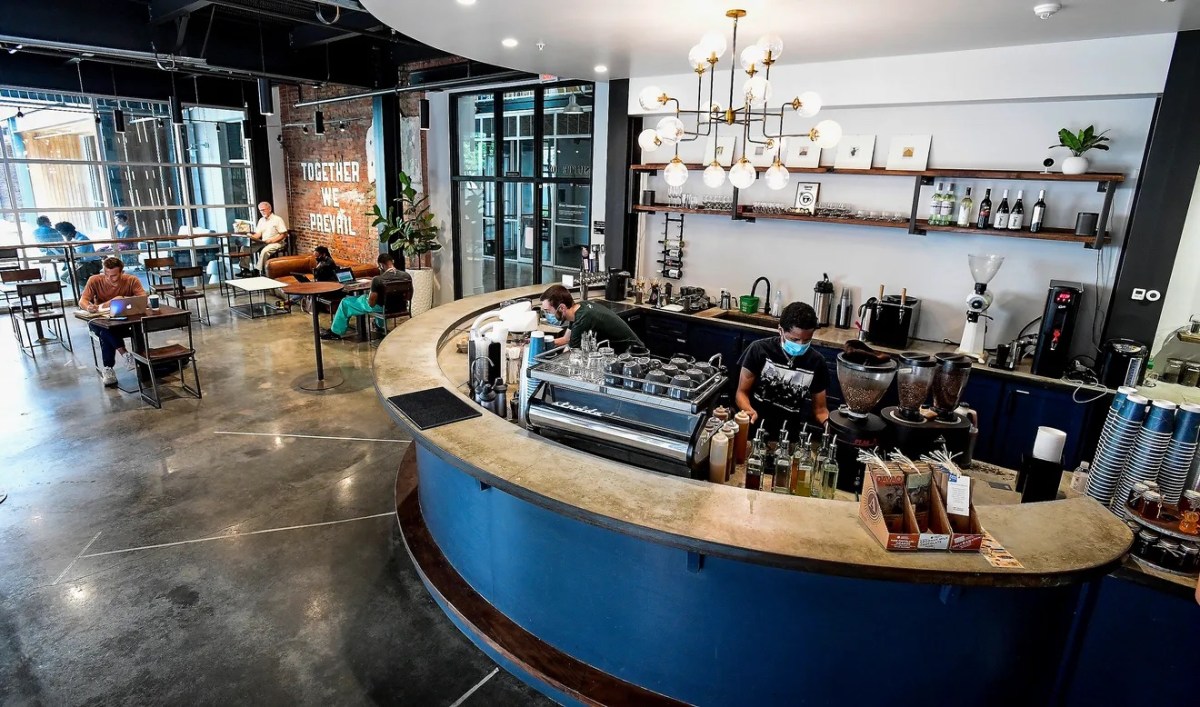 Wade decided to become of all things — a barista. He understood that creating a business where he would support coffee farmers from developing economies by purchasing their crops at a fair price could be one of the most impactful ways to create lasting change for the people in those regions.
The most recent addition to this has been the NFT-powered project '0xCoffee' which he jokingly calls the "metaverse skin" of his brick and mortar business.
0xCoffee is a Web3 project with a dual mission to connect people all over the world in deep and meaningful ways through coffee while utilising blockchain protocols. The aim is to reinvent the 700-year-old global opaque, murky coffee supply chains that prioritise the big business owners first.
Fair Trade
Calling the fair trade organisation "a joke", Wade tells me the only way to ensure fairness at each step is to build strong personal relationships with the growers themselves.
Having this direct, birds-eye view of the supply chain, Wade wanted to make sure that people could also see for themselves that the coffee they were buying and consuming was fuelling positive growth in local communities, not exploiting them. Through 0xCoffee, they're slowly but surely building a plan to use NFTs as on-chain assets with utility that is only limited to the imagination.
"We work directly with farmers. We source all our coffee direct from origin and I personally know all of our growers really well," Wade explained.
"This sounds like a total plant thing to say, but literally three minutes before this conversation I was on the phone talking to a grower from Costa Rica," he laughed.
As a result, the Prevail Coffee now sports a list of verified ethical growers from Ecuador, Costa Rica, Papua New Guinea, Guatemala, Rwanda, Ethiopia and Colombia.
For Wade, coffee wasn't just a sure-fire way to aid economic development and provide people with a pathway out of subsistence farming — it was also one of the best ways to foster a sense of community back home in Montgomery, Alabama.
"Coffee is this arbitrary excuse for people to come together. We've all just decided that if you want to be with someone, and you don't have any other excuse, you just say: 'Hey, can we grab a cup of coffee?'".
The journey to 0xCoffee via Pudgy Penguins
Interestingly, Wade's foray into blockchain didn't start with supply chains or nonprofits. It first began with a set of "libertarian" principles that drove him to see the profound utility of cryptocurrency as both a way of streamlining cross-border payments, as well as alleviating the economic woes of modern capitalism.
Wade explains how, as someone in the import export business, the use case of crypto to help facilitate seamless cross-border payments clicked for him instantly.
"Traditional fintech, even in its best use cases, just isn't built for frictionless movement of funds across borders, and so I've kinda just always had an interest in blockchain for these exact reasons."
Unfortunately, a string of unfortunate business-related events at the beginning of 2018 saw him liquidate his crypto holdings to keep the doors on his coffee chain open, signalling a temporary end to Wade's interest in blockchain tech.
However, this interest was fiercely reignited in early 2021, when an IRL friend of Wade's and notable Pudgy Penguin holder who goes by the pseudonym 'PP', began "going deep" into the world of NFTs.
Wade, who is also now a "Pudgy" himself, tells me how his ears immediately pricked up and he began properly looking into more use cases for Web3.
"I said to PP: 'this NFT thing fascinates me, and I really think I've got a good use case'" Wade said.
"From there I immediately started asking myself; 'how can we utilise this technology for something cool and good?'"
Coffee NFTs: The premise
The premise behind the new NFT-powered coffee venture as of right now is still quite simple — you mint a 'Just the Drip' NFT and get given the opportunity to redeem it for your choice of 12 bags of ethically-sourced coffee. Coffee lovers and NFT holders from around the world hang out in the project's Discord and chat.
In the long-term, 0xCoffee wants to take the ethically-oriented business model of the Prevail Coffee chain further by harnessing the power of blockchain technology to help solve some of the most pressing problems in the international coffee trade.
Speaking to the way in which blockchain tech could soon empower growers in developing communities, Wade said the inherent shadiness of coffee-related supply chains poses the perfect use case for the immutable nature of on-chain verifiability.
Great fit
"I just think there's a great fit here, because it's a problem that has been created because of murkiness in the supply chain, and too many middlemen. There's too much of a loss of value from seed to cup for the farmer," Wade added.
"The value increases from seed to cup, but the farmer doesn't see any of that value increase along the way."
While the NFT project is still in its nascent stages, the end goal of the 0xCoffee project is to eventually build a transactional system where coffee growers receive payments for their efforts every time some hot water runs pulses through their coffee grounds and into someone's cup.
The same way a musician receives a royalty payment every time their song plays on the radio, a farmer will receive royalties every time a barista whips out a fresh brew, powered by on-chain royalties.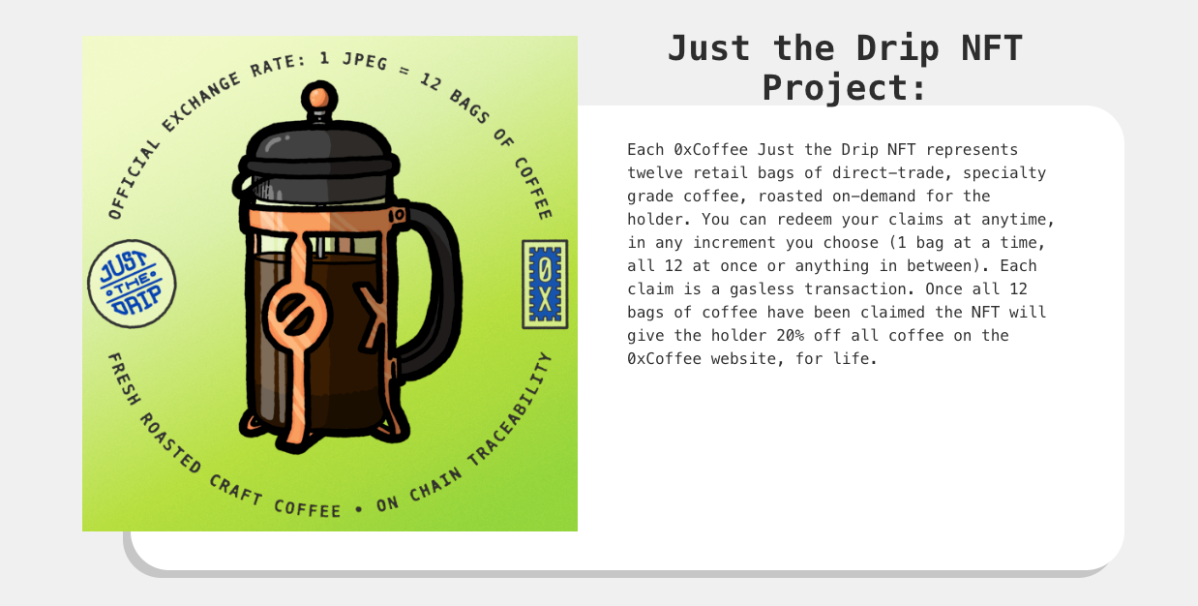 Supply chain
"Ultimately, we want to create a supply chain that is bi-directional. I want to live in a world where, if you're at the supermarket, and you scan a UPC code to purchase a bag of coffee — that initiates a smart contract interaction, and the grower gets a percentage of that retail sale."
"Historically, coffee has been used as a weapon to oppress farmers, because it's one of the few commodity crops that they can actually grow. But if we can find ways to create equitable and transparent supply chains, we can use it as a tool to empower them instead."
A similar Web3-powered coffee project is EthicHub, which harnesses the power of DeFi protocols to help farmers gain access to loans that empower them to sell their crops to direct markets.
Investing in digital assets opens up new doors for philanthropic ventures, as the public, programmable nature of blockchains provides far more utility and transparency than conventional financial tools. The digital assets themselves are only becoming more capable of being further programmed to deliver greater utility.
Recognising how much of a buzzword the term 'Web3' has become, Wade has been going to great lengths to ensure the scope and utility of the project doesn't end up confined to the oftentimes "insulated" environment of social media.
"We're not limiting it to the Web3 Twitter circle jerk," he said.
When asked what the future held for the project Wade said that he's quite recently made the decision to pivot full time into Web3, and properly build out the coffee business. Despite cratering crypto prices Wade assures me he's in it for the long haul.
Leaving me with one not-so-cryptic hint, Wade laughs:
"I don't know anything about a 'Pudgy Coffee' though…that's all I've got to say about that."