Web3 2023: Looking back on 2022 in the coming years, what are the most significant and catastrophic crypto market events that we will remember?
All-time-lows. High-profile hacks. Elon bought Twitter. The Ethereum Merge. BlackRock and Coinbase join forces. Terra, Three Arrows Capital, and FTX get wiped out. And, of course, the influencing factors like Ukraine, Biden's crypto regulation, and the accelerated adoption of Web3 technologies and AI (Artificial intelligence).
Even though the crypto ecosystem shed trillions in market value and major players fell like dominoes, it is resurrecting itself. Many anticipated the collapse of the entire ecosystem, but the diamond hands knew that the events of this year would undoubtedly lay a stronger foundation for the return of the bull.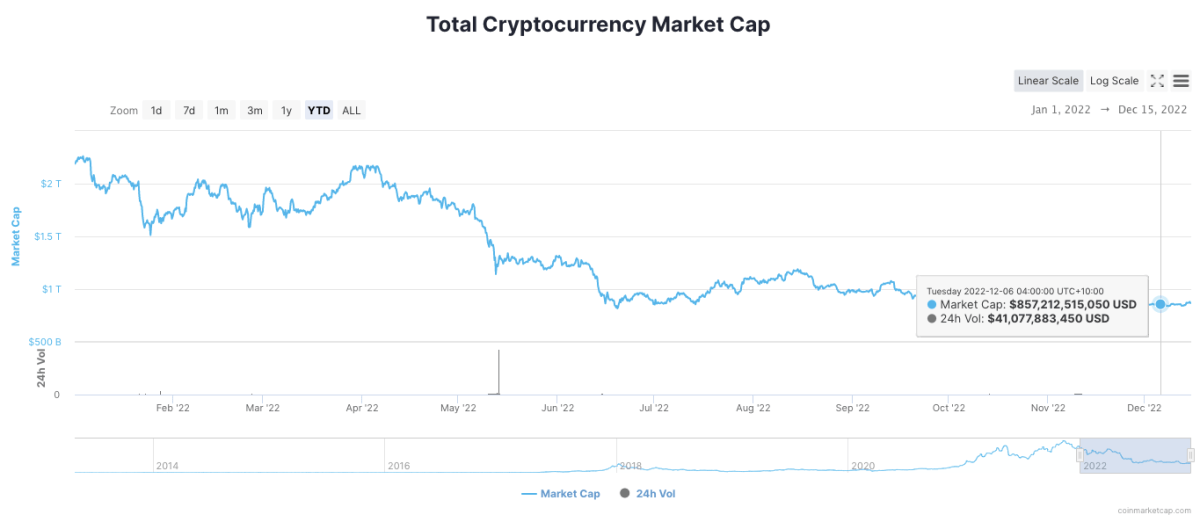 With all of that said, what did 2022 teach us in retrospect? What can we read between the lines of a year that saw the coldest crypto winter the market has yet seen and accumulate the knowledge we need going forward?
2022, a year for builders
2022 was a builder's market. It was also quite the rollercoaster ride, but more importantly, it was a time when the diehard crypto community was continuously tested, separating the wheat from the chaff.
Many lessons were learned about companies managing their treasuries and keeping fiat in the account, and consequently, this led to many companies going under while investments were sitting on the sideline, waiting to be invested.
To put things into perspective, we are not yet out of the bear market, and this is what the Web3 industry still currently looks like:
US$6.5 billion was invested in Web3 companies in 2022, compared to fintech in second place, which raised US$2.7 billion.
VCs invested US$900 million into Web3 in Q3 of 2022, topping the charts (not for the first time) and surpassing mainstream industries like fintech and biotech.
Terms like 'Web3 marketing' spiked significantly on search engines and popped up in the bios of countless social media accounts, quickly leveraging the evolving industry.
Web3 2023: What's in store?
No winter (or rollercoaster ride) can last forever.
While still shrouded in uncertainty, 2023 certainly looks more promising for the Web3 ecosystem than the preceding year. We will witness a powerful resurgence in the Web3 sector, including big-name investments from prominent venture capitalists and exciting partnerships with enterprise-level companies.
Many unicorn-status companies are notably investing in Web3 integrations. We expect increased investments in blockchain protocols and decentralised finance (DeFi) projects, leading to more real-world use cases and mainstream adoption. DeFi is becoming increasingly popular, and so far, in 2023, we have seen a steady increase in decentralised exchanges (DEXs) and other DeFi projects being created.
Any chart is bound to have ups and downs, and when the market retraces, what will be important is how you spent your time and resources in the bear market to ready yourself for thriving in the bull.
In 2023, the widespread adoption of Web3 technologies will continue to extend, and the term is already becoming a household topic. Web3 technology has already been in development for several years, but we are only now seeing more people become educated on what it is, interested in leveraging Web3 tools, and motivated to participate in the industry.
The Web3 rollercoaster will be roaring back in full force in 2023. As investors look to secure their investments, they will be even more careful and vigilant in the coming year. As such, we should expect to see more regulation and oversight being applied, but also a lot of innovation and experimentation.
As we move into the future of Web3, it's essential to stay informed and remain vigilant while making decisions. With a better understanding of what 2022 taught us, we can be more prepared for what lies ahead in 2023. So, get yourself and your sideline investments ready for the ride.
An insider's perspective
Being directly involved in the Web3 and crypto marketing industry, I see that more and more clients approach me after having raised large funds to start investing in expert marketing services and take their projects to the moon.
Let me tell you, the budgets are soaring, expectations are met, and seeing what happens next year is highly anticipated – but in the best way.
In the marketing industry, we always like to say, "one week in the crypto world is like a month in the normal world," and we must keep this mentality in every state the market throws at us and optimally prepare for any circumstance.
How can you expect to embrace the bull if you did not go to the measures of acknowledging the bear? Even the coldest crypto winter must transform into a new spring.
So, how can you make the best of Web3 in 2023?
An ideal strategy is having a great product and/or service that benefits the community in the real world regardless of the state of the wider crypto economy.
As the industry evolves, focus on how your project can bring value to the space and build a marketing strategy around that. Leverage the revolutionary Web3 and AI tools we have at our disposal to gain a competitive advantage and establish yourself in the dynamic space.
Overall, Web3 will be here in 2023 and beyond, no matter what happens in the markets. We must remain informed and prepared for any situation that arises within the space to continue to build, innovate, and thrive.
Enjoy the ride, and remember that what goes down must come up.