NFT Economies: Non-Fungible Tokens and NFT economies are wild.
Love them or hate them, it seems like everyone has an opinion. Objectively, some of the criticisms make sense: It's a lot of money to spend on a digital picture of a cartoon animal. And even if you do finally buy one, what the hell are you going to do with it?
This sort of makes sense given the primary use case for NFTs has been that of a speculative investment. The NFT economy, as measured in $USD, is almost entirely composed of revenue from primary mints or secondary sales. But there's more to the NFT economy than just trading.
Small? Yes … but it's growing
At the centre of the NFT economy sits, of course, the NFT project/artist. There is no economy without it, and the size of that economy is directly linked to the success of that project/artist. It starts here with the project and the mint.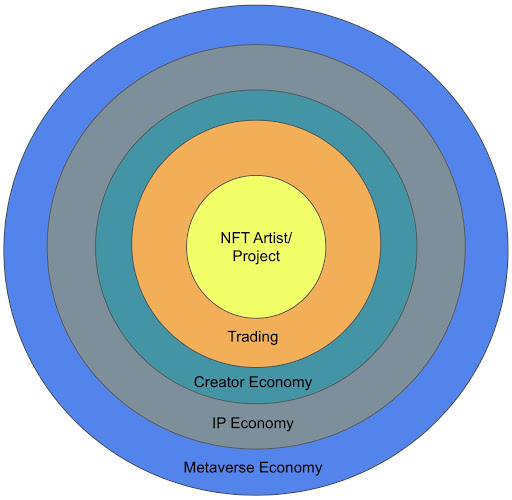 The first economy to emerge is the trading economy, the predominant economic activity within NFTs at the moment. But this is where things start to get more interesting as the first natural growth beyond Trading is the Creator Economy.
We've seen this launch early on: Artists working with NFT owners to commission additional artworks based on their NFT. More often than not, it's physical art. Artists like @LeiMai_LeMaow who made this artwork for Zeshan Ali (@SassBAYC) co-founder of Bored Ape Yacht Club.
https://twitter.com/leimai_lemaow/status/1579586205276327936?s=61&t=bvoFWTEUrIojaq4rWCcNDw
There's a thriving community of artists and creators building new businesses on commissioned artwork and other goods. This will only grow as specific NFT projects/artists begin to break through to more mainstream recognition and use.
Now we extend that ring to the next part of the NFT Economy: Intellectual Property. One of the stronger use cases in my view, IP usage allows NFT owners to monetize their assets in a way that wasn't previously possible. IP rights weren't previously provided with any sort of regularity and the transfer of those rights was cumbersome and expensive. NFTs changed this through the features of Ethereum (and other blockchains).
NFT Economies: Unlocking
This unlocks new opportunities for the NFT owner. They can use the IP themselves or licence it to a 3rd party. While terms & conditions differ between NFT projects, it's common for owners to be granted a non-exclusive licence to commercialise the use of their NFT. The below image is from the Bored Ape Yacht Club terms & conditions as an example of the rights BAYC owners have, and which transfer automatically upon a change in NFT ownership.

As with the Creator Economy, we are also seeing the formation of the NFT Economy. Arguably the most "mainstream" example of this is with Old Navy X Bored Ape Yacht Club.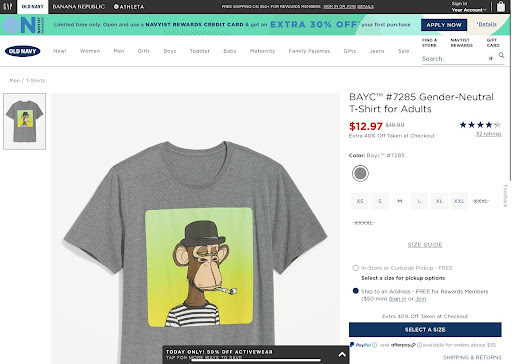 The only way this could have happened is with the owner of that BAYC NFT licensing its use to Old Navy, and they aren't stopping with just this NFT. Old Navy plans on licensing Mutant Ape Yacht Club, CryptoPunk, CloneX in addition to more Bored Ape Yacht Club NFTs for their T-shirt collection.
The latest ring is the Metaverse Economy. As with the previously mentioned Economy Rings, this has also started. Earlier this year, Snoop Dogg, a prominent NFT collector in his own right, announced a partnership with The Sandbox. Releasing his Metaverse music video "House I built" and his Metaverse concert debut.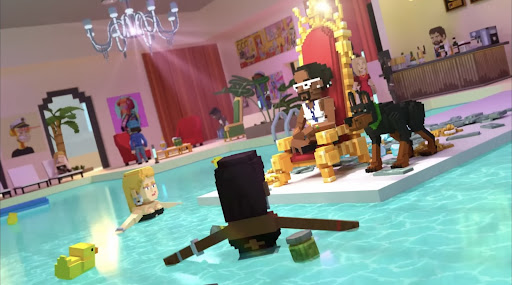 NFT Economies: Metaverse
If you're going to throw an event in the Metaverse, you need land upon which to do it.
What if you don't have land? Of course you can buy it, but you can also rent it too. At least that's the direction in which I believe the Metaverse Economy will head. This isn't rocket science; if one believes that events will be big within the metaverse experience, there will need to be space to hold it. Depending on how each Metaverse grows, additional opportunities will exist for renting land or utilising it for a fee.
We're very early with adoption, but the broader concept of a "Metaverse" is a key focus of investment for quite a few players within the broader technology landscape; most notably Facebook who quite literally rebranded themselves Meta, showing the strength of their conviction on the Metaverse.
All this makes for a cool story, but it was so obvious, why are these additional economies not playing a larger role within the greater NFT Economy?
"We're early, right?"
"We're early" is both technically true but often just a lazy answer, so I'll spare you the bullshit. Where we are "early" is the broader crypto-native solutions to discovery and commerce for the additional rings of the NFT Economy.
Every rocket needs fuel, and when we look at the recent NFT bull market, that rocket fuel was the various NFT marketplaces as a solution. By creating an open permissionless marketplace, it became super easy for NFT projects/artists to participate: there was no gate keeping. Second, it became easier for buyers and sellers to discover each other and engage in peer-to-peer transactions without the use of an intermediary.
The NFT Economy is broader than just trading and we are only at the beginning of the journey to really build out the additional economic rings sustainably. The use case is there but the infrastructure is still being built. Whilst it's too early to tell how long the current bear market will last, what we do know is that builders still exist…and we're preparing for an exciting future.