Crypto jobs: Given what's happened this year during crypto winter with FTX and various bankruptcies , there are natural fewer crypto jobs going around, but there's still plenty of opportunity. We just need to be more realistic about what we're worth going forward.
Crypto jobs correlated with the market, huh?
The price of Bitcoin seems to be correlating pretty well with NASDAQ at the moment. And the analogy I like to use is that the job market correlates with that also.

It isn't just the crypto space that is being affected. The broader tech market is taking a hit on jobs as well. However, Australia seems to be shielded — like it was shielded back in the 2008 great financial crisis. It didn't take a big hit – just a little dip – and then it recovered, fast.
Crypto by its nature isn't really a local thing — it's more cross-border. And that's the whole point isn't it? So even if the local economy is doing well, crypto companies might not necessarily do as well. In fact, there's been quite a few layoffs happening of late — on average, we've seen 30 to 40% of workforces being slashed.
Swyftx recently laid off about 40% of their staff, and that was after around 30% were terminated in June. So that is what we are working with at the moment.
And anybody who tells you they can predict things is lying to you, but my best guess is that more layoffs will follow, however it is likely to be a very slow process over the next six months.
What's it going to take for things to get better? We've got to see liquidity come back into crypto markets. Plain and simple.
2023 and beyond, what's in store for crypto jobs?
Looking ahead and the year that is soon to be upon us, my best guess is that we will reach the middle of 2023 before we see a strong uptick in hiring. But importantly, it doesn't mean there aren't opportunities out there.
A lot of VC money that was around before the bear market still needs to get spent and is sloshing around in their bank account. What's more, there is still growth, and there are still new businesses that have funding that are not so much at the mercy of the general crypto markets. They've got cash in the bank and they can see themselves through this bear market.
Of course, they may not expand at a rapid rate but they're building core teams. Isn't that when the best projects get built, during the bear market?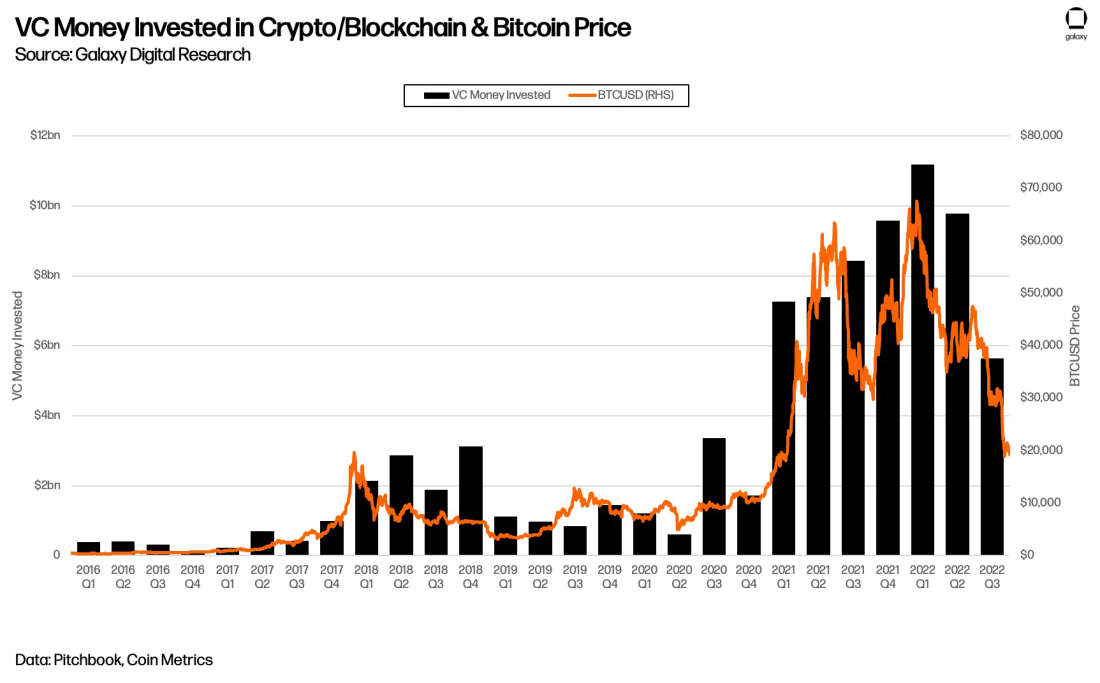 In short, there will be a holding pattern over the next few months, or at least until March. At that point, we can see what is happening in broader markets and get a sense of the lay of the land.
Zooming out
Zooming out for a moment, in crypto, the job situation is not that much different than in a traditional market. The non-critical jobs are getting slashed first — things like marketing, communities, social, analysts, and project managers.
And when you look at it from a business perspective, you can understand why. There are generally less projects with fewer marketing dollars to spend on things like social media. And there's also generally less activity going on in forums like Discord and Twitter. Well, at least compared to the bull market. People are just a bit quieter.
However, and this is the key point, so-called business critical jobs will still be in demand. This includes roles like developers, and key business personnel (like maybe a CMO or head of marketing), except it will just be leaner. A lot of fat is being cut from these companies, and by 'fat' we mean anything that is not mission critical.
In this environment, heads of departments will need to become more hands-on and contribute to the broader goal of the company, particularly from a day-to-day operations perspective.
Now here's the good news or the silver lining for companies looking to hire – they can pick up some extraordinary talent that wouldn't have been available before, for less.
So, who is in demand?
Blockchain developers are still really sought after, unsurprisingly. Other developers will be in demand too, because good quality ones are still hard to find, and they will be hard to find for a long time to come, in my opinion. So on the development side, that's probably the safest bet at the moment.
However, there is some bad news. The salaries are not what they were nine months ago, when they were very high.
If you aren't prepared to compromise on salary, you better be prepared to wait nine months to a year before you secure a job, or even longer. You will need to make a few sacrifices if you want to be employed. You're only worth what someone is willing to pay, and it isn't 2021 anymore.
You don't need to be a rocket scientist to understand that things are more volatile now. In the crypto markets, there are higher highs and lower lows. And as mentioned earlier, the same can be said for the crypto jobs markets.
Let's see what 2023 brings, knowing that given what we've seen this year, anything is possible.