Michael Schumacher, Formula 1 world champion, is suing German newspaper Die Aktuelle for publishing a fabricated interview using artificial intelligence (AI). The paper's fake print interview was released as the legendary racer remains in rehabilitation for injuries suffered in a 2013 skiing accident.
In December 2013, Schumacher suffered an fall while on a ski trip in Switzerland with his family. His injuries required him to be placed in a coma which lasted nearly half a year.
Schumacher regained consciousness in June 2014, and was then transferred to a hospital in Lausanne, Switzerland. In September 2014, he returned home to continue with treatment, reportedly paralysed with memory and speech problems at the time.
Schumacher has been out of the public eye since, and his family has been closely protecting him from the eyes of the press.
Die Akutelle's 'AI interview' was published April 15 with Schumacher on the front cover, with "The first interview!" as the headline, and "World sensation" in bold.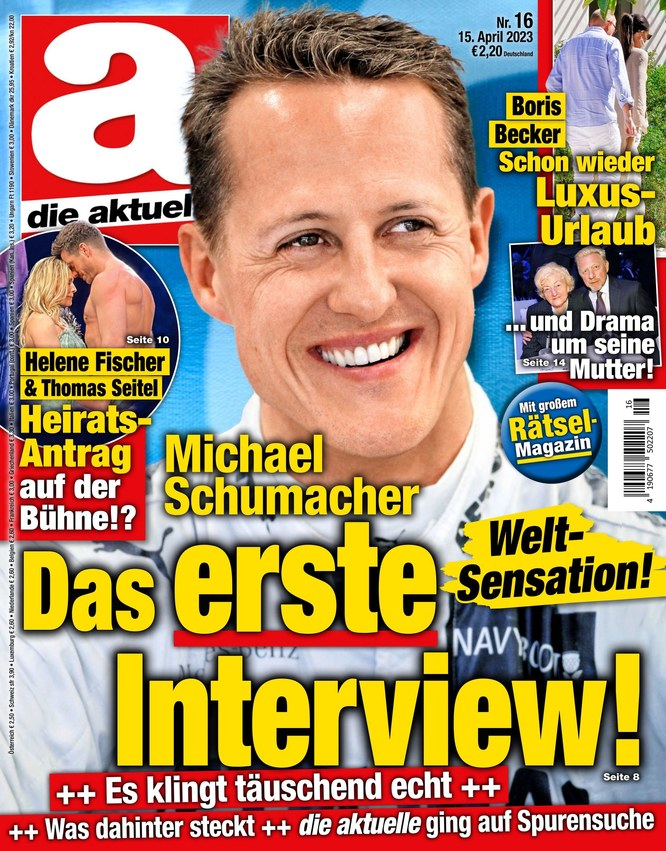 According to German media, the interview discussed his life, career, and family, and how he has been doing since the accident. In the magazine, 'AI Michael Schumacher' was quoted to have said: "My life has changed completely."
At the end of the story, Die Akutelle added a note that the entire interview was generated with AI: "The interview was done on the internet. On a page that has to do with artificial intelligence, or AI for short."
Days later, Schumacher's family confirmed to Reuters that they are planning to pursue legal action over the AI interview.
AI and its ethical problems
As AI – and more specifically, ChatGPT – continue to change the way we live and work, there has been no shortage of reports pointing to larger issues surrounding the widespread use of AI tools.
Most recently, an Australian mayor said he planned to take legal action against ChatGPT's creator, OpenAI, for defamation. In early April, The Washington Post reported that ChatGPT allegedly falsely accused a law professor of sexual harassment.
At the time of writing, Die Akutelle has yet to issue a formal response to the Schumacher family.