AI-generated pop stars have arrived, as virtual K-pop band MAVE bursts onto the scene in a blaze of glory. They are set to become the best-behaved influencers in the world. But what do we think of this?
Pop stars are so much more than mere singers. Once they get into the big leagues, they become commercial influencers of a huge magnitude. They can ask for hundreds of thousands of dollars for a single Instagram post which waxes lyrical about a handbag, perfume, or an NFT series. And they do.
But what happens when popstars or other influencers go bad, and embarrass the brands that are paying them to jack up their image?
Take Kanye West for example. After saying things that upset social media, his sponsors, including Adidas, Footlocker and JPMorgan Chase, cut ties with him.
But what if you could make a popstar that always behaved how you wanted them to? They wouldn't get drunk in public, be busted in a crack den, or have a sex tape released (unless that was the planned strategy).
Well, humans, we have arrived at that point in our timeline.
AI influencers
AI (artificial intelligence) influencers are here, and they are getting an astonishing foothold in the market, competing with real humans who have real problems.
An example of this is a new band that is totally AI-generated. The band members are AI-generated, their songs are AI-generated, both lyrics and music, and they will always behave the way their human overlords want them to.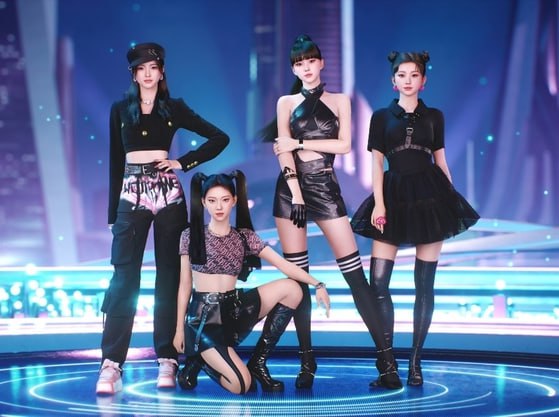 They will never leave the band, causing a breakup. Plus, they don't get tired, they don't need a holiday, they don't get sick, and they don't need to train for a tour. And, they don't need time out to make a family, and they never get old.
This has come to pass with the launch of a new K-pop band that is totally AI-generated. Welcome to K-Pop band MAVE.
K-pop and profits
K-pop is a recent phenomenon in the world of music. Short for "Korean Pop", it is a genre of music emanating from South Korea. Saying it is popular is an understatement.
K-pop has become known for its use of intensely synchronised dance routines, wildly colourful costumes, and visually stunning, computer-generated music videos.
The genre has churned out many successful artists and groups, such as BTS, BlackPink, EXO, and Red Velvet. Their fans are hard-core, calling themselves the "K-pop Army."
K-pop has also been dragged across the internet for its intense training process, which verges on self-abuse. Aspiring K-pop artists do years of gruelling training before they debut with a group or as a solo artist.
But once an artist has made it in K-pop however, then they are in the big leagues with their bank account. K-pop is a money-making machine.
Just one K-pop band alone, called BTS, added US$4.65 billion of gross domestic product to the South Korean economy in a year, which puts them in the same class as huge earners Samsung and Hyundai.
And yet, they have been caught up in scandals, involving sex, guns, breach of copyright, band feuds and other problems.
But not MAVE. MAVE will always behave the way the music company wants them to.
MAVE and AI-generated popularity
On YouTube, Mave already have 24.4 million subscribers, despite only releasing a two-song album in January.
Games company Netmarble and Kakao Entertainment have collaborated to bring this concept to life, and they know what they are doing.
Band members are called Marty, Siu, Tyra, And Zena. They have their own identities and specialties, reminiscent of the Spice Girls, a formula that has worked so well for other manufactured pop bands in the past.
Netmarble also know their audience, providing "follow me dances" and selling NFTs which give fans access to their social club. This is a profit-making paradise already.
Netmarble's plan seems to be working. Already on TikTok, their "follow me" dances have reached over nine million people. Their Twitter account has the same growing army.
AI is creating a totally new future for us, in just about every realm of our lives. It is both scary and fascinating, and we are here for it.