As eyes across both traditional and crypto financial industries look to evaluate the aftermath of the FTX collapse, many are recognising that it wasn't only retail customers that were left high and dry by the unceremonious collapse of the empire. A plethora of companies, hedge funds and investment managers entrusted FTX with their capital – of course in hindsight, that has since proved to be a grave mistake.
With losses continuing to emerge, we decided to zoom out for a moment and ask the question: who got most rekt by the FTX implosion?
What we know so far
According to a report by Crypto Fund Research, the company found that on average, 25-45% of crypto-focused hedge funds have some direct level of exposure to either FTX or its native token, FTT. Based on the research, it was found that between 7% and 12% of assets under management were exposed to FTX.
Speaking to Blockworks, Crypto Fund Research CEO Josh Gnaizda said:
"When the smoke clears, we expect the losses from crypto hedge funds and crypto venture funds directly exposed to the FTX collapse to have associated losses of well over $1 billion and possibly as much as $5 billion".
Crypto Fund Research typically reports on a monthly basis on around 100 funds, and according to reports, the CEO has received dozens of updates from those impacted by the carnage.
Crypto deleveraging events take time to play out, meaning the total impact of FTX's demise will remain unknown for the time being. Notwithstanding, several firms have come out to disclose their exposure, with some feeling the pain far more than others.
The declared losses
The bodies keep surfacing as more information comes to light. Some were invested in FTX, others in Alameda Research, with many being exposed to FTX by either holding its FTT token or crypto on its platform.
It is highly likely that every investor in FTX is in the process of writing off its investment. Same for those who left digital assets on its platform. These are the most notable names that have cropped up in the midst of all the chaos:
Virtually anyone who invested in FTX is likely to write off their investment, so one ought to expect more announcements to be made.
The biggest losers ranked
Based on publicly available information and confirmed losses, the leadership stands as follows: 
Paradigm – US$278 million
Temasek – US$275 million
Sequoia – US$213 million
Genesis – US$175 million
Solana Foundation – US$155 million
Thoma Bravo – US$130 million
Galois Capital – US$100 million
Softbank – US$100 million
Ontario Teachers' Pension Plan – US$95 million
Galaxy Digital – US$77 million
Tiger Global – US$38 million
CoinShares – US$30.3 million
Coinbase – US$15 million
Celsius – US$14 million
Crypto.com – US$10 million
Total confirmed losses amount to US$1.7 billion thus far, with the breakdown by investor as follows: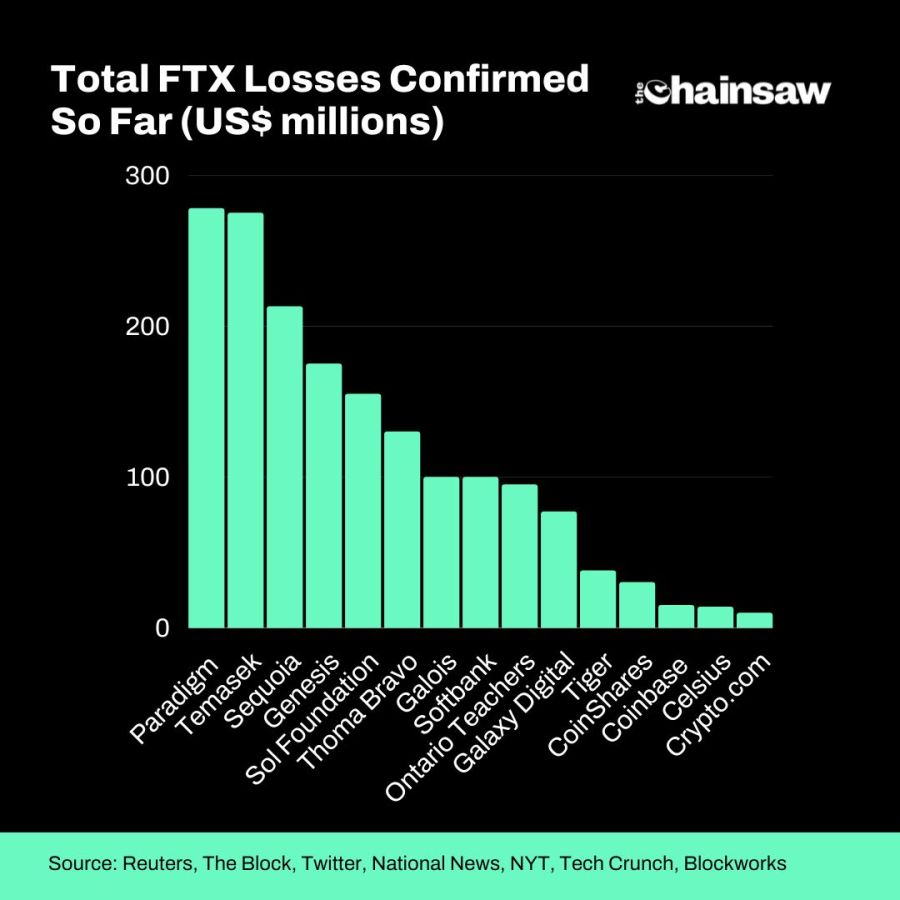 While Paradigm presently takes the crown for the biggest loss stemming from the FTX meltdown, the most egregious is surely the Ontario Teachers' Pension Plan.
Crypto investment firms and their investors have a reasonable understanding of the risks baked into their investments. Can the same however truly be said of the teachers whose pensions were invested in a speculative company such as FTX? Probably not.
As more information comes to light, we'll keep the FTX loss leaderboard updated.