Coinbase earnings report shows loss: Despite beating analyst expectations on both revenue and earnings, shares in the world's largest publicly traded cryptocurrency exchange Coinbase (NSDQ: COIN), have plunged almost 5% in the hours following the release of the company's Q4 earnings report for 2022.
A significant decline in trading volumes — which stand as the main source of revenue for the crypto exchange — were pointed to as one of the leading factors behind the company witnessing a 75% decline in year-over-year revenue and reporting a net loss of US$557 million.
The company cited the collapse of numerous high-profile crypto projects including the Terra Money (LUNA) ecosystem in May, Three Arrows Capital in June, and FTX in November as additional stressors on the overall crypto economy.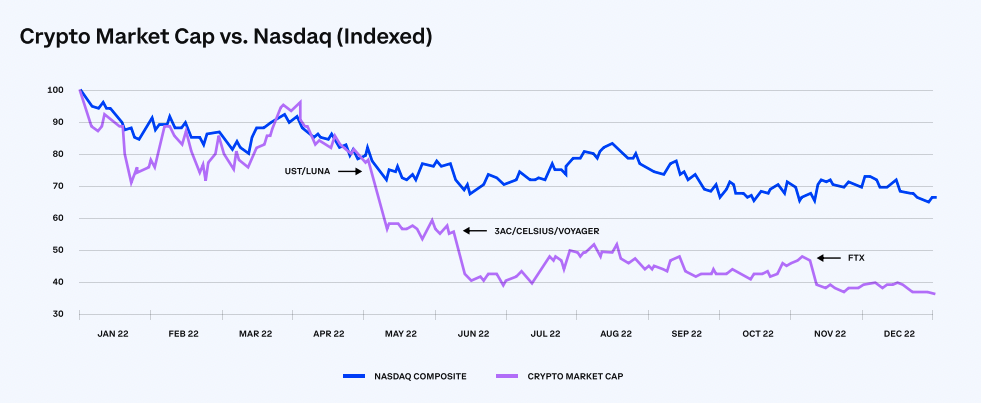 "To state the obvious, 2022 was a challenging year for crypto markets and our transaction
revenues. As macroeconomic indicators like inflation remained high and interest rates rose
throughout the year, crypto market cap declined along with broader equity markets," reads the official letter to shareholders.
Coinbase earnings report
The fees earned from retail traders utilising the Coinbase platform stands as one of the primary sources of revenue, and a decline of 89% in total volume for the quarter saw overall revenue drop significantly from the periods preceding it.
Even though Coinbase netted US$629 million in revenue, which beat analyst expectations of US$590 million, large overheads and costly operating expenses saw the books come out with a significant loss. Additionally, the total Q4 revenue figures a substantial 73% decline from the whopping US$2.5 billion revenue figures registered in the same timeframe in 2021.
The latest report marks the fourth consecutive quarterly losses for Coinbase, which has been hit hard by the notorious volatility of crypto prices. Coinbase clarified to its investors that the coming year will see a renewed "regulatory focus" and the company believes their strong foundation will make them a net beneficiary of this new environment.
At the time of writing, shares of Coinbase are trading for US$62.07, down 4.8% on the day. Over the past month, Coinbase shares have benefited significantly from the recent resurgence in cryptocurrency prices, with the crypto company a near 11% gain in the last 30 days.