Best AI tools: Artificial intelligence technology has burst onto the scene this year, opening the door to an entirely new suite of tools to aid humanity in its quest for efficient working.
OpenAI's viral chatbot ChatGPT officially inked its name in the records books as the fastest growing consumer tech app in human history, growing to the widely revered 100 million active user mark in just two months. In comparison, the wildly popular video app TikTok took nine months to reach this milestone, and Instagram took 30.
While ChatGPT is definitely one of the more interesting and popular AI tools that everyone is widely aware of, there's an entire world of powerful AI-powered programs aimed at outsourcing arduous and human tasks to the minds of machines.
Here's seven of best new AI tools that can help you level up your productivity in 2023.
Best AI tools
1) InVideo: Create entirely new videos from text prompts
InVideo is like ChatGPT on audiovisual steroids.
Users can enter any text into the prompt bar describing their ideal video and the generative AI network will spit out a video that aligns to the text.
The InVideo user experience is quite simple and offers users an intuitive friendly experience for whipping up fully generated AI-powered videos. They've added features that allow you to edit your audio and a review loop if you're working with a team of people.
While it's definitely just a fun ting to play around with from a creative side, the software also specialises in allowing users to create video for advertising purposes with additional features like advertising and brand kits built in.
Booth.ai pricing
While the tool offers basic functionality for free, users looking to get the most out of InVideo will have to pay for premium features. The pricing for Booth starts at US$15 a month and lets you generate 60 videos every 30 days. Alternatively, you can upgrade to the 'Unlimited' monthly model, that as the name suggests, allows users to generate an unlimited quantity of generative AI videos.
Booth also offers a lifetime business plan for a one time payment of US$399.
2) Jasper: AI-powered writing
If you've ever felt stuck while drafting up an email, blog post or text message, well there's now a tool for that. Jasper is a generative AI assistant that performs a wide range of tasks that help people in creative professions — particularly those who deal with creating new content on a daily basis — to streamline their tasks.
Jasper can be used for an extremely wide range of functions. According to the website, Jasper can help users create a mixture of audiovisual content for social media platforms, advertising, blog posts, websites and even generate custom art.
While Jasper's primary function lies in creating written content, it can also aid users in ideating about certain marketing strategies through an added tool called 'brainstorming'. Jasper doesn't just write content, it will also help you to adjust your tone when you're struggling to convey messages in the right way, whether it be marketing material or a simple email.
Jasper AI pricing
High quality generative AI assistants don't come cheap. For those of you looking to use Jasper for a leg up on the competition, you'll need to be ready to a starting cost of US$50 a month for 50,000 words. If you're creating more written content than that each month, you'll need hand over more with an US$82 monthly price tag on 100,000 words and a US$232 monthly fee on 300,000 words.
3) Poised: AI-powered communication coach
Poised is an automated communication coach that teaches users to speak more confidently and clearly by analysing video and speech to provide you with real time feedback. If you're a nervous speaker, this tool can help you work out the kinks and bring you up to speed on public speaking.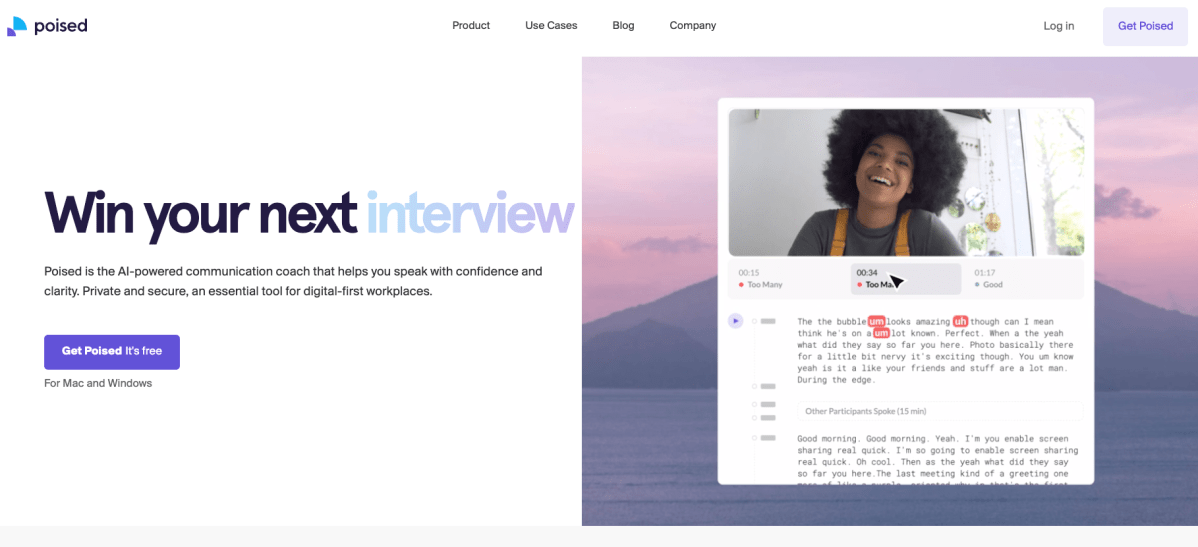 When you submit a recorded video of yourself Poised will analyse your body language, and converts your speech to text where it will show you in real time where you're stumbling, overusing certain words or just doing a whole lot of "umming" and "ahhing".
The tool also tracks user progress over time and will tell you whether you've been improving or if you still have speaking habits that aren't easily gotten rid of.
Poised pricing
Poised offers a fairly competitive pricing model, with a free option that looks to provide a good deal in the way of functionality including benefits like live feedback, key moments analysis and more. However, for those of you looking to extract the most out of your AI-powered communication coach, you'll need to hand over a very reasonable US$13 month for all the bells and whistles.
4) Runway Gen1: customise videos in wild ways
Runway Research is the artificial firm behind the already, wildly popular tool 'Stable Diffusion' which creates images from text prompts. Their newest AI tool is called Runway 'Gen-1' and it's what the company describes as 'video to video' technology.
Essentially, Gen-1 works in a similar way to other generative AI tools, expect instead of creating new videos from scratch, it edits an original video in a myriad of different ways, allowing users to transform videos of themselves walking down the street into an entirely new video that might look a scene for their favourite cartoon.
Gen-1's features aren't just limited to mapping over and existing video. Creators can also identify key things in the video they want to isolate and then edit that individually using AI. Say you have a video of your dog walking around but you'd like it to look like your dog has spots; congratulations, you can isolate your dog and put spots on it with Gen-1.
If you're looking to jump in and experiment with Gen-1, you'll have to request private access from the team on the Runway Research website before you can get started.
5) Booth.ai — a tool for product development
If you're into online retail or e-commerce then Booth might be a pretty useful tool for you. Booth generates settings for mockups of products and places them in imagery that makes a product appears like it would in the real-world.
If you run a t-shirt company online through popular drop shipping platform like Printful, Booth can help create more customised imagery that will better appeal to your audience with more realistic looking imagery.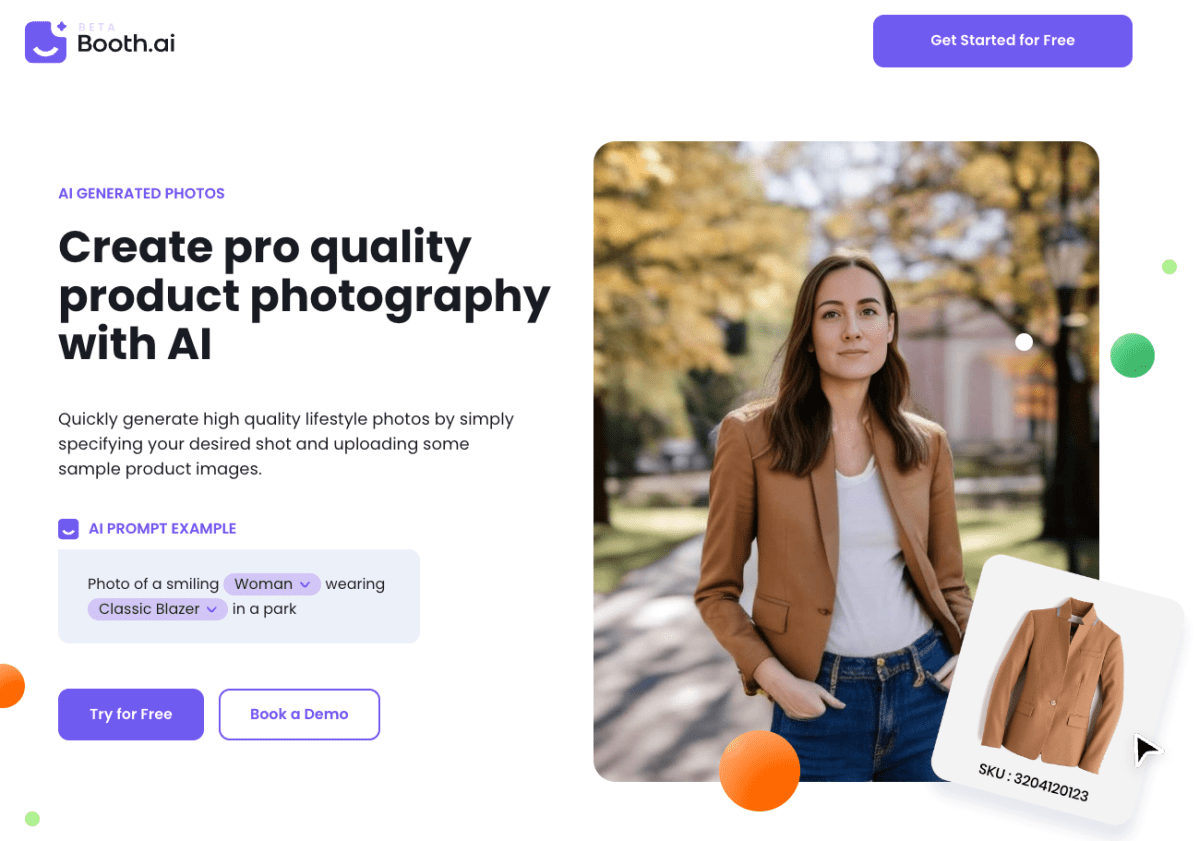 While Booth users can get started for free, pricing programs begin with the 'Basic' tier offered at US$95 per month for up to 250 individual images. For those looking to create large amounts of AI-generated product placement, Booth offers a 'Pro' model that allows users to create up to 2,000 images, which will set you back US$199 a month.
6) Galileo
Galileo is definitely aimed more at professional developers, but the creative power of the technology is nonetheless quite impressive. Galileo specialises in helping developers to generate user interfaces (UI) 'UI' from text prompts.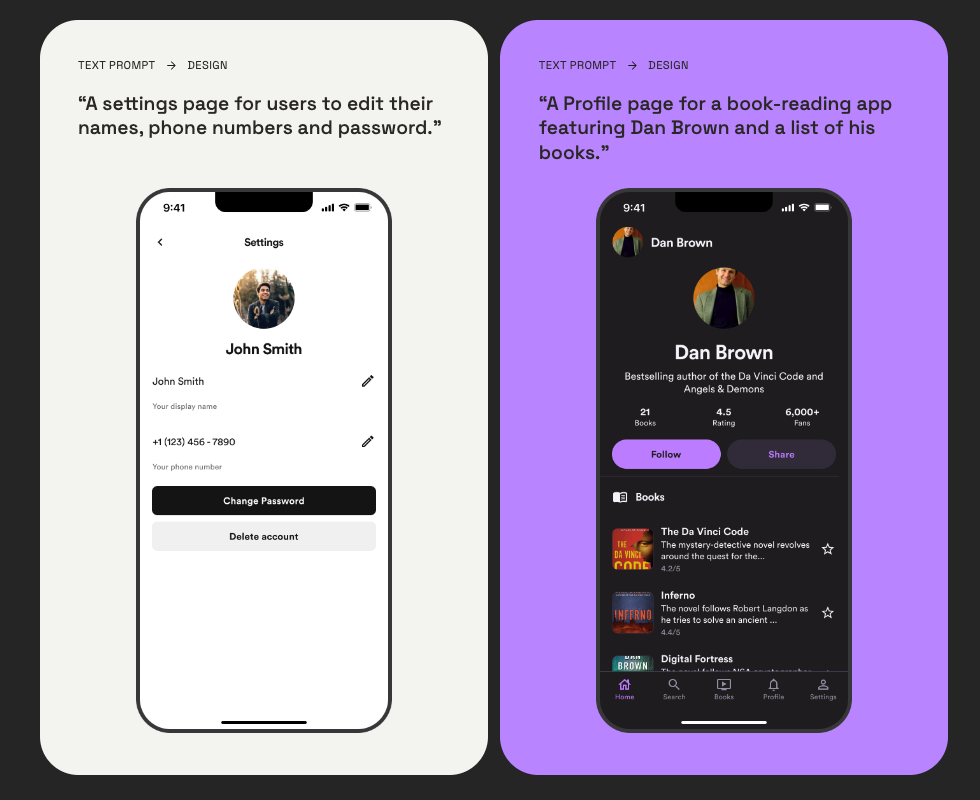 While Galileo helps create intuitive, custom designs for app developers, it also generates specialised imagery that can be altered with prompts to match the overarching branding of the app itself. The tool is still in Beta — meaning that there's only limited functionality for the time being — but is set for full release in the coming months.
7) Eleven Labs AI voice cloner
One of the creepier additions to this list is a voice-cloning AI tool from artificial intelligence firm Eleven Labs.
The voice cloning tool, dubbed Prime Voice AI, works by getting users to upload audio of themselves saying a wide arrow of different words. The tool then learns your voice and learns how to generate future audio based on the sounds of your voice.
See the demonstration of how it manipulates the speech of Leonardo DiCaprio when he's speaking at the United Nations conference on Climate Change.
While the ways that it's used her is impressive, and a touch dystopian, it can be leveraged by online creators looking to create scripts for visual content. Once the program learns your voice it can be used to say anything you'd like.
Need to narrate a long video clip but keep botching the recording? It seems as though Eleven Labs have you covered. One of the interesting things about Eleven Labs 'Prime Voice AI' tool is that despite its incredible technological output, it's quite cheap.
Prime Voice AI pricing
Users can get a lot of functionality entirely for free, with the unpaid option giving you 10,000 characters of voice cloned audio. Those looking to attach their cloned voice to commercial videos will need to pay US$5 a month, with tiers going all the way up to US$330 a month for massive content creators.
Best AI tools: AI tools are cool but keep an eye out for scams
That's all of the newest additions of AI tools that you can use to streamline digital labour.
It's also worth noting that while these tools are extremely useful and productive in the right hands, they can also prove dangerous in the wrong ones.
Running in parallel with the development of impressive AI tech is a new type of scammer, empowered with tools that make it easier for bad actors and criminal to impersonate others, create 'deepfakes' and create convincing digital content that could be used to swindle people out of sensitive information. For all the information on main the types of common AI scams, you can read The Chainsaw's guide to everything AI scams here.