The market for Augmented Reality (AR) and Virtual Reality (VR) products are about to gain some serious traction. According to a number of different research reports the global market for both of these emerging industries could reach a staggering combined value of US$856.2 billion by 2031.
With the total market size for AR and VR currently sitting at around US$27.6 billion, this means that the industries are expected to witness an average Compound Annual Growth Rate (CAGR) of 41% every year until 2031, at least according to projections from Allied Market Research.
According to the report, the major market drivers behind the growth of AR and VR come from the increasing use of the internet and the ever-expanding video game industry, which have both witnessed a mass-acceleration of growth in the wake of the Covid-induced lockdowns.
The use of VR and AR is expected to grow significantly across the retail, entertainment, healthcare and defence industries, with the Allied Market's research indicating that over the next few years, the increased adoption of AR and VR tech will create 2.3 million jobs in the United States alone.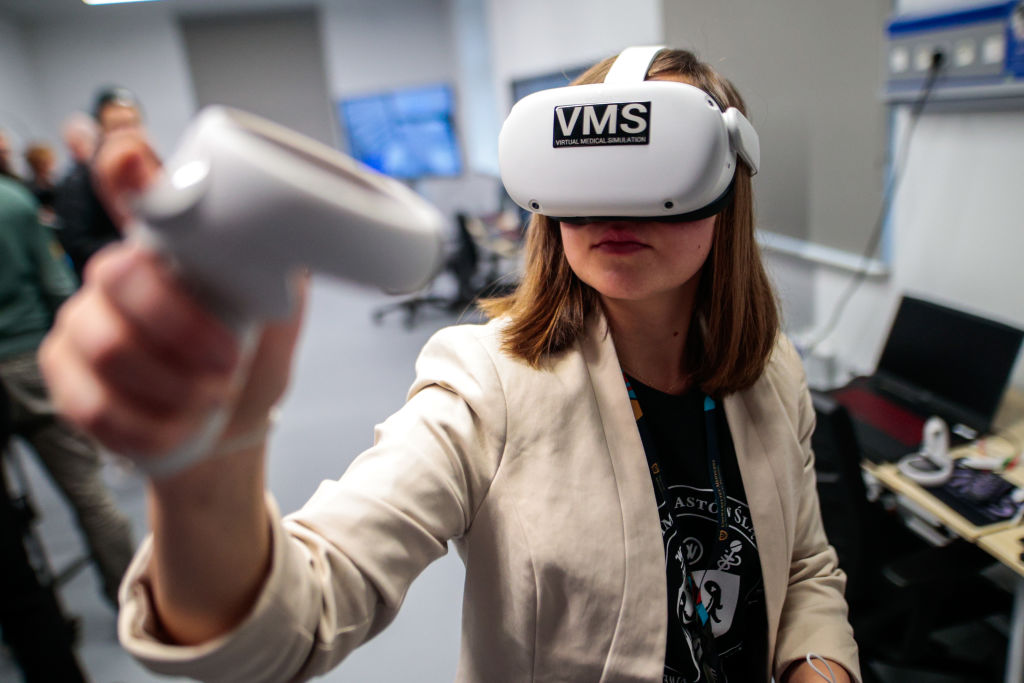 While the United States dominates the market for augmented and virtual reality products at current, the Asia Pacific region, especially Japan, South Korea, and China, are the next fastest-growing markets. Of this expanding market in the Asia Pacific, the VR gaming sector is the fastest growing with an average CAGR of 30.5%.
Before we go any further, its probably best to clear up some terminology. Augmented reality refers to enhancing a real world setting by imposing graphics and metrics on top, whereas virtual reality involves jumping into an immersive reality that sits external to the "real world".
Breaking down the differences between AR and VR
Allied Market Research's US$850 billion figure is the highest estimate for the potential value of the combined industries, with other researchers coming to more conservative conclusions.
According to research from Statista, revenue in the combined market is expected to reach US$52 billion by 2027, with revenue generated by AR tech substantially beating that generated by VR. The figures expect revenue from AR software, hardware and marketing to eclipse US$31 billion, outperforming total VR revenue (US$21 billion) by a whopping 47%.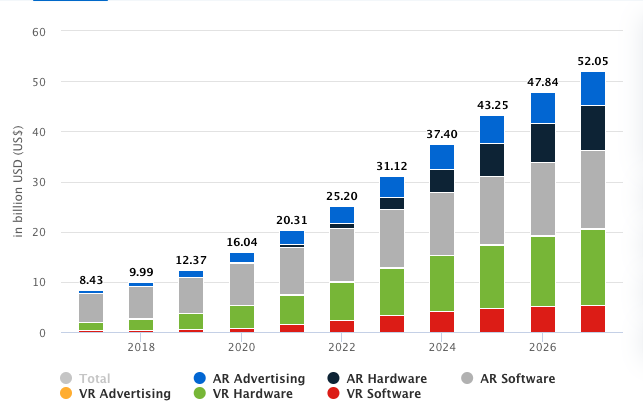 Of these six categories in the graph above, advertising for AR is expected to grow most significantly, with total income growing by more than US$100 for every individual user that enters the industry.
There are a number of reasons behind why AR is being projected to outperform VR, mainly because it requires less intrusive and bulky hardware. Instead of strapping on a massive pair of clunky VR goggles to become fully immersed into a virtual world like Facebook's (oops I mean Meta's) Horizon Worlds, AR simply places information onto the world as you already perceive it.
Typically AR software is leveraged through your phone camera, or in the future by wearing a pair of 'smart glasses'. Think of it as something more akin to Jarvis from Iron Man.
As of right now, the Business to Consumer (B2C) model stands as the most dominant method for revenue generation in AR and VR, capturing 55% of the market, while Business to Business (B2B) sales stand at 45%.
Apple prepares for entry
Rumours have been circulating that Apple will soon be launching a mixed reality headset, which combines core features from both AR and VR. According to tech insiders, this headset will allow users to see a more enhanced version of the real world by integrating a wide ranger of different Heads Up Display (HUD) functionalities including real-time text translation and graphic overlays.