Elon Musk is not only in the news every single day lately, he IS the news — and his mummy Maye is helping him stay there.
After the entrepreneur and the world's richest man took over Twitter, shiz has hit le fan.
Musk has been digging around in the records of Twitter and dispersing these records to multiple journalists for them to decipher.
The billionaire (who is now a little less of a billionaire) maintains that these records show the inner workings of Twitter's relationships with external agencies that paid for favourable coverage and to censor opposing voices.
As of today, the FBI joins those accused of suppressing opposing voices in the latest instalment of The Twitter Files. (Rabbit hole entry points: Part 1, Part 2, Part 3, Part 4, Part 5, Part 6, Part 6.5, Part 7, Part 8).
But that isn't the only Twitter drama at hand.
Twitter bans external links to competing platforms
More or less, Twitter planned to shut down links to competing social media platforms. While this caused uproar across Twitter, Elon's mummy decided to wade into the fracas and defend her boi.
As it turns out, it seems that Twitter has moderated this decision, and has taken down the original tweet.
Who is Mummy Musk?
In an interesting twist on all this drama, we got to see Elon's Mum come out of the woodwork to defend her son. But who is Maye Musk?
Maye is the 74-year-old mother of Elon Musk. Born in Canada, she moved to Pretoria in South Africa as a child with her wildly adventurous parents. From there, Maye thrived. She was a finalist in the 1969 Miss South Africa beauty competition and eventually completed a Master of Science degree in Dietetics.
She married Errol Musk in 1970 (divorcing him in 1979) and had three kids. The first was Elon, who was named after Maye's American grandfather, John Elon Haldeman.
The second was Kimbal (who is an entrepreneur in his own right and very bullish on Web3 and DAOs, launching his own philanthropic DAO, The Big DAO) and then Tosca, who has made a name for herself as a filmmaker.
Maye calls herself a model, dietitian, and author. In her 50-year career as a model, she has appeared on the cover of some pretty hefty magazines, including Vogue and Sports Illustrated, among other titles.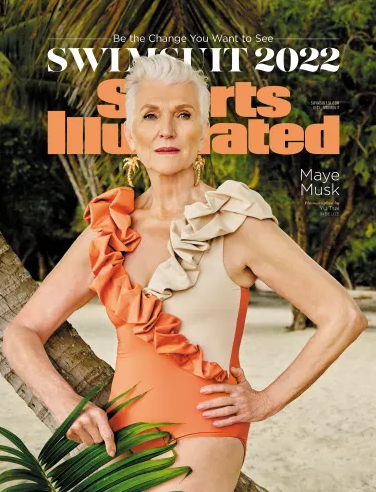 Vogue Korea was another one of Maye's glam modelling assignments.
While Maye seems fascinating, her parents are mind-bogglingly interesting too.
Maye is a twin and one of the five kids of Wyn Fletcher and Dr. Joshua Norman Haldeman.
The couple were wild adventurers and flew around the world (with their kids!) in a prop plane in the 1950s. The family also spent 10 years running around the Kalahari Desert, looking for the Lost City of the Kalahari.
Maye Musk – USA is the endgame
Elon moved to Canada at age 17, and his sister, brother and Maye eventually followed. Maye's modelling career carried on in Canada, and then after that in the US. Maye of course is very active on Twitter these days, and we expect her to continue being so.
We will keep an eye on this hottie defending her boi and continue to keep you posted.