That day has finally come… where we can actually get picked up by a two-person flying passenger drone that has no pilot. Yep, no one is driving that thing. You can now just simply call a passenger drone to yourself, type in your destination, and off you go. Well, that is as long as you are in China. If you are anywhere else, there will be a bit of a wait before it becomes a reality.
This news was unleashed into the world this week via a press release from autonomous drone manufacturer Ehang. The Guangzhou-based company has got the all-clear from the Civil Aviation Administration of China to legally fill the skies with passenger drones. This gives the tech company the go-ahead to start flogging its autonomous eVTOL aircraft (electric vertical take-off and landing).
The eVTOL drone can comfortably cruise at approximately 96 km/h, with a top speed of 130 km/h at full throttle. It will be part of what Ehang calls a "thriving low-altitude economy."
Passenger drone race
While other drone companies have been scrambling to catch up with Ehang, the Chinese company, with this certification, has solidified itself as the frontrunner in the global race. Ehang is well ahead of its American and European counterparts. Over in the US, passenger drones are about to get the go ahead, but they have to have a pilot at the helm, at least during a trial period.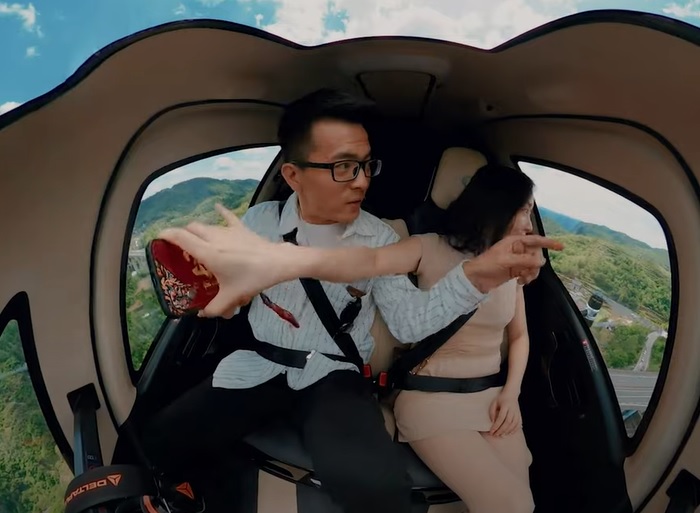 Meanwhile in China, passengers are promised that their pilotless journey will be monitored by a ground-based control centre, which can take control in case of emergencies.
Ehang and expansion
Listed on the US stock exchange, Ehang has a market capitalisation of about US$1.15b (AU$1.82b).
Ehang plans to expand overseas, so will Australians will see one of Ehang's drones in the sky soon? The answer is yes and no.
A spokesperson from the Civil Aviation Safety Authority told The Chainsaw, that they already have a roadmap at the ready for when the passenger drones start appearing here. But, like in the US, the drone tests will initially be piloted, rather than remote piloted or autonomous.  
"We continue to watch advanced air mobility (AAM) developments internationally because operations here are expected to be based on foreign-made aircraft."
The CASA spokesperson added, "We're beginning our safety regulatory preparations in areas such as flight rules and licensing, although these won't be needed for some time. One area on which we recently consulted was draft guidance on the safe design of vertiports, which are the proposed landing sites for AAM."
So while we will see the passenger drones in Australia in the near future, the authorities here are taking a much more cautious view of the technology.
China is ahead
CEO of Ehang, Huazhi Hu, told CNBC that they were planning to expand across the world. Already they have 1200 orders for drones from Japan's AirX, Malaysia's Aerotree and Indonesia's Prestige.
European countries like Belgium are using them for flights that don't carry humans. Instead they are using them for medical transportation. However, it is easy to assume that human passenger flights will eventually follow. 
Back here in Australia, a spokesperson from the Department of Infrastructure, Transport, Regional Development, Communications, and the Arts also conformed that autonomous passenger aircraft are not currently operating in Australia. However they are working on it. They will soon be releasing  an Aviation White Paper around mid-2024, which will "set the Government's long-term vision for aviation – including emerging aircraft technologies."
The spokesperson said that they recognise that AAM and drones will provide an opportunity for a range of different sectors, such as freight transportation and emergency services including aeromedical delivery and disaster response, to operate more cheaply, safely and environmentally friendly way."
Despite global interest, Hu said that China is the largest market for drones and is the fastest growing. He also noted that in around five years, "air taxis will be a common sight in many cities."