Nayib Bukele, president of El Salvador, will be buying one Bitcoin every day starting today. This is according to his Tweet yesterday, while Bitcoin City forges ahead in the background.
Bukele is at the helm of the first country in the world to accept Bitcoin (BTC) as legal tender. Since September 2021, Bitcoin has been used alongside the US dollar in the small Central American country of 6.5 million people.
He also thinks he's pretty cool.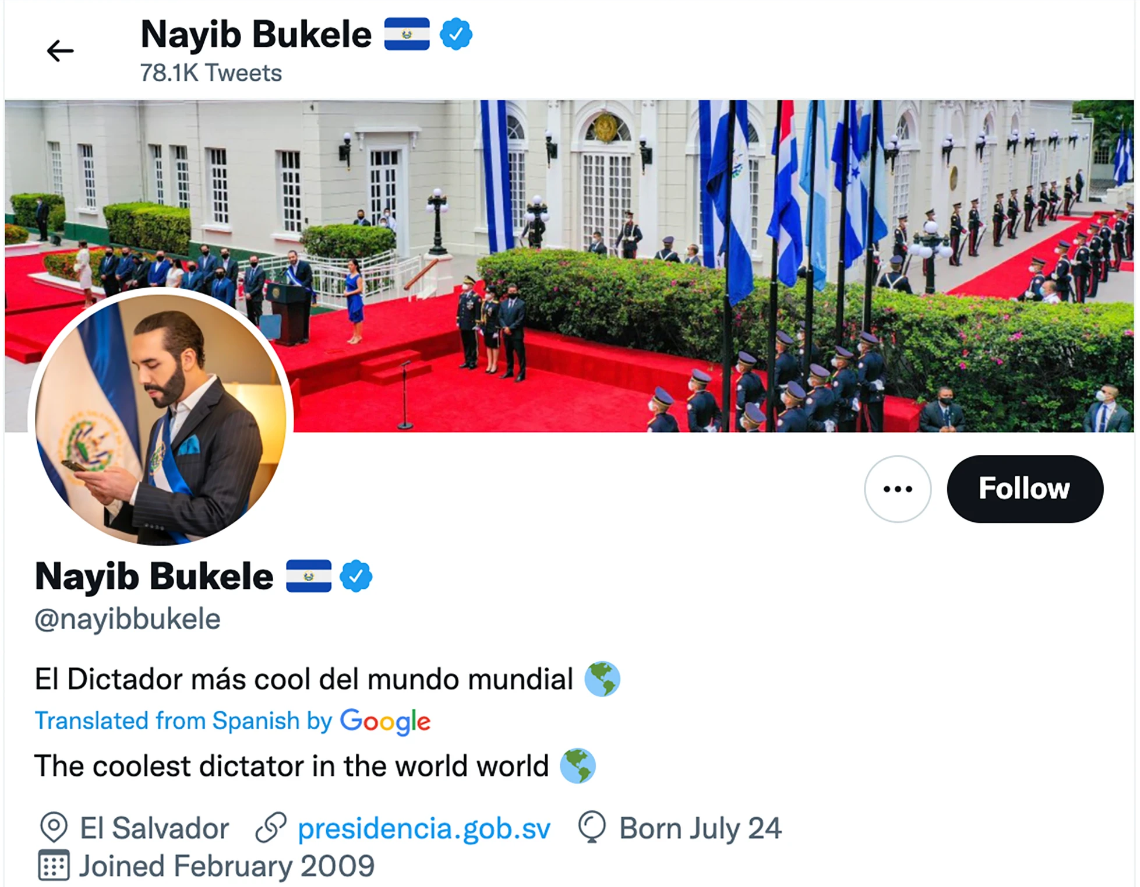 El Salvador's stash
The El Salvador coffers are thought to harbour 2,301 Bitcoin in total, worth around US$34 million at the time of writing.
As BTC prices fall during the crypto winter, Bukele is ploughing on with his plan to "buy the dips".
If the Bitcoin price rises, he will appear to be a legend like no other, a world-class leader who pulled his people out of the hole. If the BTC price doesn't ever recover, the only dip he will be buying is salsa.
Either way, it is an interesting experiment. It is daring, and he seems to mean well, even if it all goes to the wall.
Will Bitcoin alleviate poverty?
Bukele prefers to communicate to his adoring public via Twitter. In his messages, he has talked about Salvadorians who live and work abroad and send money back to the homeland. As they do this, many third parties clip the ticket on the way through, taking a profit from some of the poorest people who receive the money in El Salvador.
Bukele also says that up to 70% of people in the country don't have a bank account. Having a crypto wallet on a phone is potentially a big problem solver of this issue, aimed at helping provide financial inclusion.
The president says that more than a million families who have a low income could benefit.
Bukele's decision to make Bitcoin legal tender has been met with varied opinions. While his approval rate appears high, not everyone is happy with the Bitcoin rollout. Over 1,000 people turned up to protest the new financial solution, saying it won't work for small vendors and people like bus drivers, because it is just a tool of speculation. However, Bukele will push on, despite the negative sentiments.
Nayib Bukele and Bitcoin Beach
Bitcoin Beach is an experimental area in El Zonte, El Salvador. It was created when an anonymous donor gave El Salvador a wadload of BTC to fund the project.

Since then, businesses and locals (plus tourists) have been using BTC to conduct transactions throughout the precinct. Many people who work in the area also get paid in BTC.
Nayib Bukele and Bitcoin City
The Bitcoin beach haven in El Zonte has inspired Bukele to build a much bigger Bitcoin destination in a different location, and he is calling it Bitcoin City.
This is a city that is planned around life using Bitcoin. It is a wildly ambitious plan which aims to dispel environmental criticisms by using a nearby volcano to power the system.
The city is thought to be breaking ground this year and will be built on the Gulf of Fonseca with rumours it will be designed to look like a Bitcoin.
There are fans aplenty of the idea.
And of course, there are people who think this is nothing short of a wild folly.
As Bukele buys more dips, is this madness or genius? Opinions remain divided.