A creepy new app called Pimeyes uses artificial intelligence (AI) to find every photo of you online based on one uploaded image of yourself. And the results are unnerving. AI reverse image search is here.
Just when we thought that our privacy could not be poked in the eye and pushed off a cliff any more, wait until you see AI tools getting even more weird and creepy.
A website called PimEyes uses AI facial recognition to search the internet for pictures of you (or whoever's picture you put into the search bar) and it comes back with seriously scary results.
The website lets you have three free opportunities to surface yourself on the internet before you are asked to pay. While it shows you the pictures it has found, it doesn't tell you where they are until you get over a paywall.
Google images backsearch
If you want to find the source of an image, you can use Google Reverse Image Search, but it will only search for the picture you've uploaded. Instead, this AI site is capable of making a connection with other pictures of you across various corners on the internet.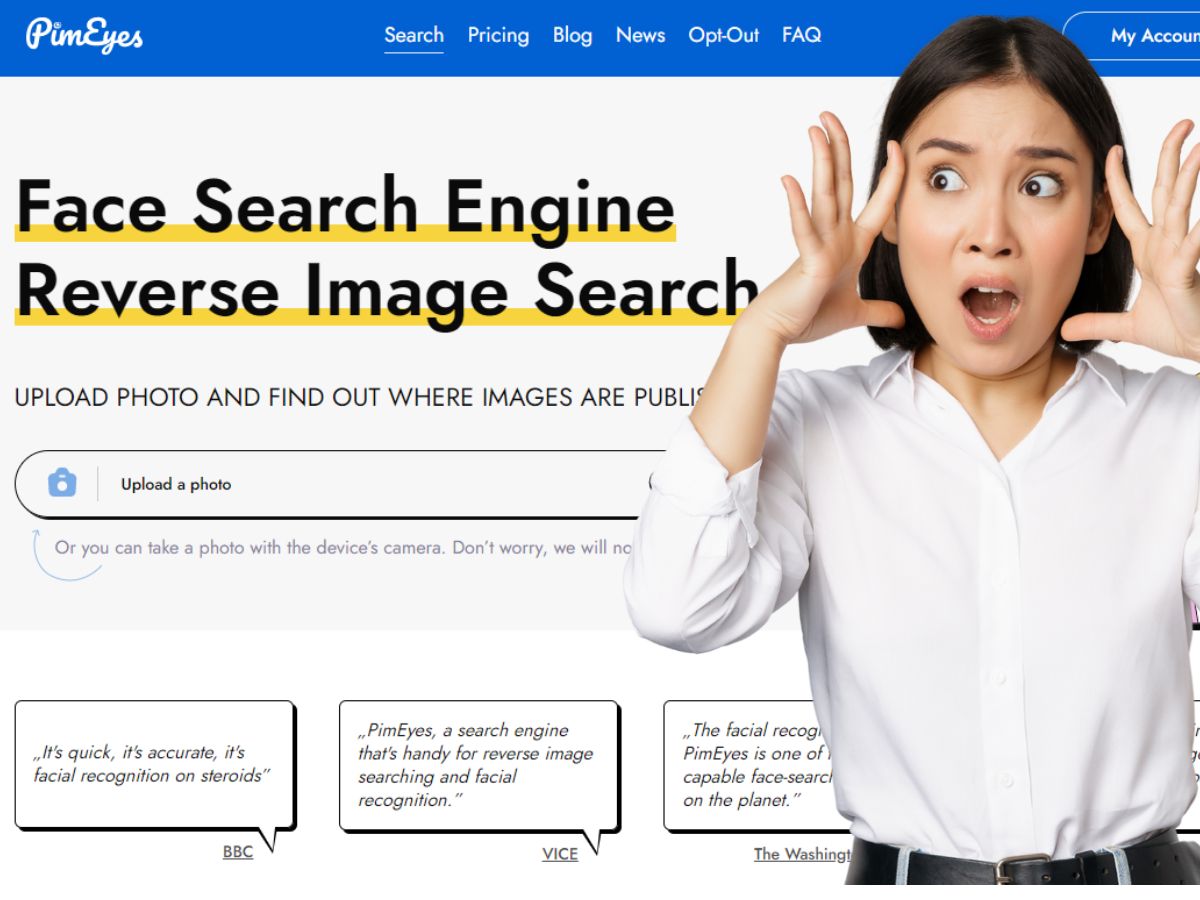 AI reverse image search: Does it work?
Yes, it works. And it can be unsettling. I fed a new photo into the site of my face without wearing glasses and within seconds it had found pictures of me both with glasses and without them, dragged across Twitter accounts and public relations databases that I never consented to being on.
According to PimEyes, the site can also be used to tell if someone has created a fake identity with your photo or if you're a victim of catfishing.
Why you might want to clean your tracks
If you are looking for a new job and you've been a bit of an online baddie in the past, you might want to know what potential hirers might see using this app. Do you need to scrub some incriminating stuff off the internet?
If, for example, you have an OnlyFans account, you might want to think about whether you want to stand by those pictures. While no employer should theoretically decide what you do in your free time, recruiters can carry bias when selecting employees.  
Take for example, OnlyFans success story Anna Paul. She's in the top 0.01% of earners on the OnlyFans platform. She also has a TikTok account, which, while being totally innocent, was banned by the social media platform. Many people said that the TikTok AI connected her TikTok account with her with OnlyFans life, and she got temporarily booted.
Could this kind of AI reverse image search be helpful?
PimEyes claims to help you erase photos that have been illegally used. You can also set an alert so that if your face appears online, you'll get an email letting you know of its existence. But can PimEyes really take down images? Or is it a false promise?
A PimEyes spokesperson told The Chainsaw that users can delete their content from the PimEyes database using a free-of-charge opt-out, which permanently deletes any related material from the PimEyes system, but the content still remains on the web at the original source. If you are a subscriber though, PimEyes say, "We can send a 'takedown request' to the source of content, demanding web administrators to delete the photos."
AI is the new frontier of our times and it is taking us into very, very weird territory.